Contact Us
Address:
900 E. Broad Street
Richmond, VA
23219 USA
 
Hours: Mon - Fri (8 a.m. - 5 p.m.)
Phone No. 804-646-6430
Email: Ask Public Works
Sidewalk Maintenance & Capital Improvement Projects (CIP)
Whether brick or concrete, sidewalks provide a safe way for pedestrians making their way to school, work, corn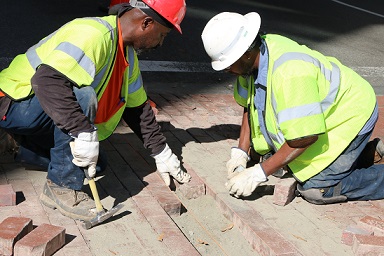 er market or restaurant, neighborhood parks, and many other urban destinations.  The condition of City sidewalks often determines how safe and enjoyable those journeys will be.
Sidewalk Maintenance
DPW Sidewalk Maintenance handles smaller brick and concrete sidewalk projects that are typically repairs that under 150ft in length and are completed by City of Richmond masons.  When repairs are over the 150ft in length they are classified as a Capital Improvement Projects.
Capital Improvement Projects (CIP)
Capital Improvement Projects Typically cover repairs that are larger than 150ft in length and replace the entire block of a sidewalk.  These projects are completed by external contractors, require extensive design and estimation, and are generally more expensive than standard sidewalk maintenance. 
The CIP division uses a "safety first" approach, and prioritizes sidewalk replacement based on funding and a risk-based repair criteria.
Citizen Responsibilities
By Code of the City of Richmond Citizens are responsible for certain activities and area's of the sidewalk.  The below areas are the responsibility of the Citizen.
Weeds and Vegetation
Sec. 11-105 (b)  It shall be unlawful for any person who owns or occupies property within the City to permit the existence on such property of any live or dead hedge, shrub, tree or other vegetation, any part of which extends or protrudes into any street, sidewalk, public right-of-way, grass strip or alley, so as to obstruct or impede or threaten the safe and orderly movement of persons or vehicles.
Carriage Walks & Driveway Aprons
Sec. 24.175 (b)  The owner of any premises abutting that portion of public street right-of-way, whether in front or to any side, to which any form of sidewalk crossing may exist shall be the prima facie owner and responsible party for the maintenance of the sidewalk crossing, whether permitted or not, and adjacent section of sidewalk pavement thereof and shall indemnify and hold the City harmless for any claim or litigation that may ensue as a result from the existence and operation of the sidewalk crossing.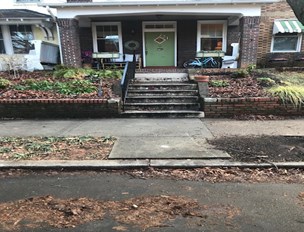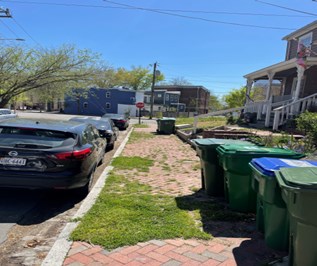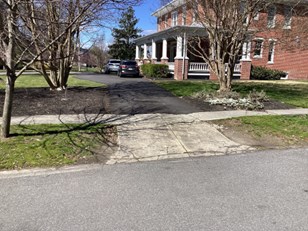 If you see a damaged sidewalk that poses a tripping hazard, please report it by call Customer Care at 3-1-1 or (804) 646-7000.  You can also enter your request for service online with RVA311