Contact Us
730 E. Broad Street, Suite 900
Richmond, VA 23219 
Fax # (804) 646-5299
Toll-Free (Outside Central Virginia): (888) 288-2781
Office Hours: By Appointment Only
Monday - Friday
9:00 a.m. - 5:00 p.m.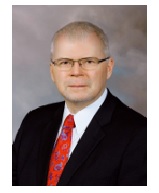 The Richmond Retirement System (RRS) is led by an Executive Director who reports to the organization's Board of Trustees in accordance with Section 22-48 of the Code of the City of Richmond.
Leo F. Griffin is the system's current Executive Director, hired June 3, 2013.
Leo F. Griffin is charged with the fiscal oversight and general management of the RRS, including retirement administration and investment management.
He has over 20 years of experience and is a licensed CPA and CGMA with a Master of Arts in Organizational Leadership from Gonzaga University and a Bachelor of Arts in Business Administration from Eastern Washington University.
"The RRS is dedicated to serving its members with a high level of ethics, integrity and professionalism," he said.
Mr. Griffin moved to Virginia from Spokane, Washington where he headed a municipal retirement system. He and his wife reside in the City of Richmond with their active dog.