Contact Us
City of Richmond
Office Of Emergency Management
900 E. Broad St., Suite 1613
Richmond, VA
23219 USA
Make a Kit, Have a Plan, Stay Informed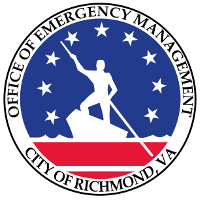 In 95% of emergencies, bystanders or victims themselves are the first to provide emergency assistance or to perform a rescue.
Experience proves that basic training in emergency preparedness and disaster survival improves the ability of citizens to survive until assistance arrives. The Community Emergency Response Team (CERT) program trains you to prepare for and respond to emergencies in your community. The City of Richmond is a component of the national Citizen Corps Program, which aims to make communities safer, stronger and better prepared through education, training and volunteer service. On the local level, the City of Richmond CERT program maintains Mayor Stoney's commitment to safe communities.
The Richmond CERT program is based on the Richmond Ready concept. The Office of Emergency Management coordinates the CERT Program.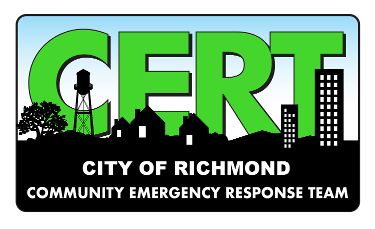 To sign up for our next CERT Basic Class starting October 21, 2023, follow this link:
https://www.eventbrite.com/e/fall-2023-richmond-va-cert-training-tickets-648959925607?aff=oddtdtcreator
Through CERT, you learn skills and concepts that prepare you to assist victims, organize volunteers and help your neighborhood recover in the aftermath of a disaster. CERT also teaches you how to prepare your home, your family, and your community in order to reduce the impact of a disaster. Upon completion of the CERT program, you will be part of a team of volunteers that is ready and able to take action to prepare and protect your community.
The free CERT Training is a 24 hour course that consists of a combination of classroom and hands-on learning. You will train alongside members of your community that will be part of your CERT Team, as well as with participants from other communities. Classes are taught by the Richmond Fire Department and the Richmond Police Department.
CERT participants will learn about:
Disaster Preparedness
Fire Safety
Disaster Medical Operations
Light Search and Rescue
CERT Organization
Disaster Psychology
Terrorism
Disaster Simulation
Additional topics covered include a discussion of weather systems and a hands-on session provided by the American Red Cross.
For information about upcoming CERT and other training offered by the Office of Emergency Management call (804)646-2504.
For additional CERT training, the Emergency Management Institute offers an online Independent Study Course: Introduction to Community Emergency Response Teams.