LGBTQ+ Community Liaison
"We all deserve safe spaces. We all deserve a world of trust, a world where we all belong. The Richmond Police Department is committed to those goals," said Captain Kimberly Mooney, "and I am thrilled, as the new LGBTQ+ liaison, to be able to work with the community to help us all achieve them."
The Richmond Police Department has named Captain Mooney as the Department's LGBTQ+ Community Liaison (lesbian, gay, transgender and queer/questioning community). The mission of RPD's LGBTQ+ Community Liaison is to facilitate conversations and strengthen relationships with the community as well as increasing awareness, training and knowledge of inclusiveness within the department.
"Richmond is a diverse city and it's important we're proactive to ensure we hear from all voices within the community we serve," said Interim Police Chief Rick Edwards. "Captain Mooney has been a valued leader within our department for more than 18 years and as our LGBTQ+ liaison I'm confident she will foster those partnerships that are vitally important to our mission at RPD."
Mooney has a history of advocating for LGBTQ+ through various community forums and has worked collaboratively with members of Diversity Richmond. She leads the LGBTQ+ Awareness course for all RPD sworn officers and recruits, facilitating conversations to ensure officers are allies and are able to create a safe space for others to approach any police officer within the department.
Mooney is active with Out to Protect, Inc., a non-profit organization that develops education curriculum and training for law enforcement about LGBTQ+ issues and hate crimes.
As community liaison, Mooney's first priority is to grow RPD's LGBTQ+ liaison group within the department and to increase visibility and availability as a resource within the community. "I'm excited to strengthen relationships within the community and to elevate the voices of our LGBTQ+ citizens," said Mooney. "We want the community to feel comfortable coming to members of the department. Together we can achieve the vitality that comes with trust, safety, and an inclusive world for all of us."
For outreach and to schedule a meeting with Captain Mooney, she can be reached at (804) 646-6029 or kimberly.mooney@rva.gov.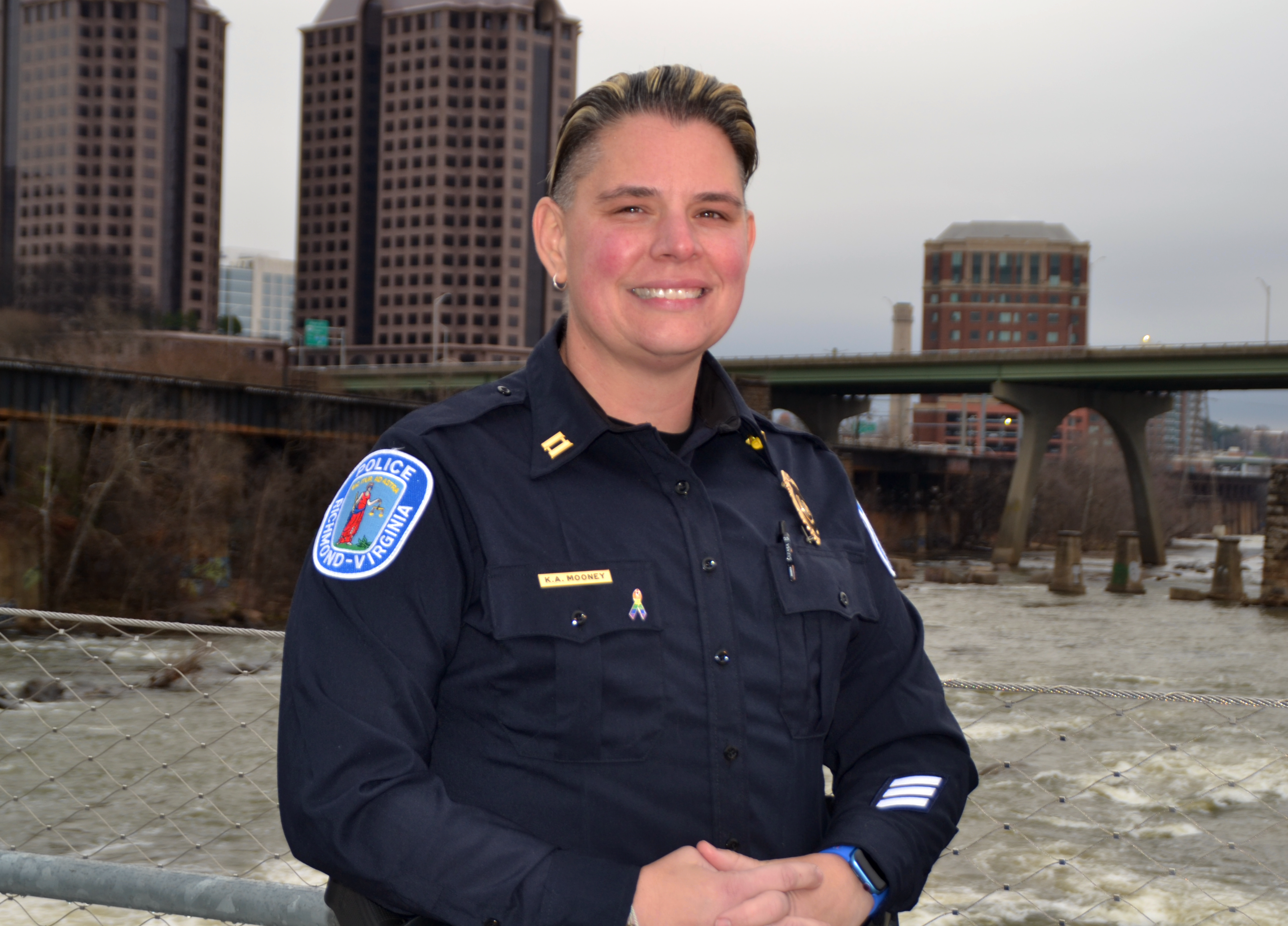 Captain Kimberly Mooney