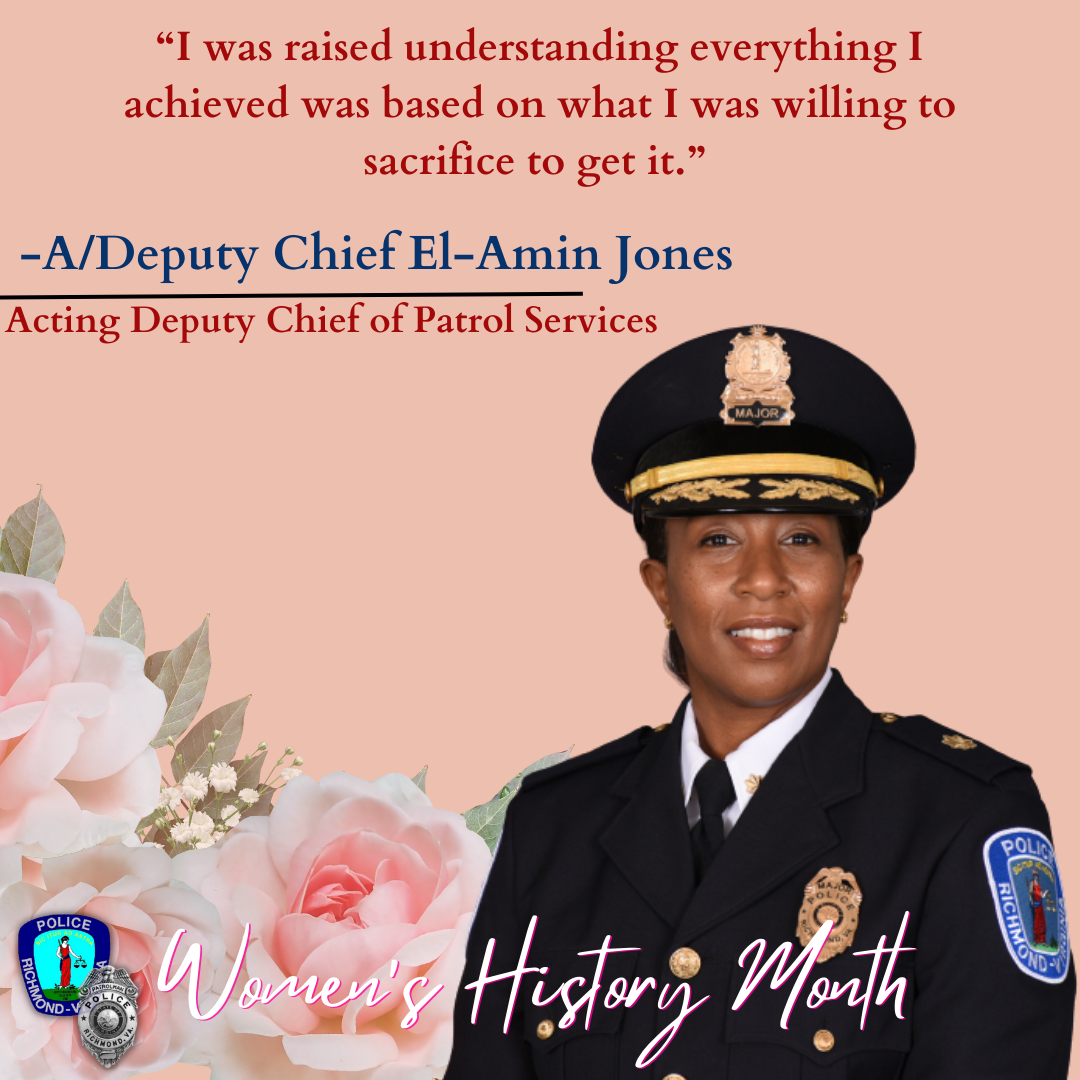 A/Deputy Chief Sybil El-Amin Jones
    Acting Deputy Director of Patrol Services
     RPD Family member since 1997
 "I was raised understanding everything I achieved was based on what I was willing to sacrifice to get it."
I was born a police officer.  I'm sure that sounds funny, but it's true!  I have always wanted to be in charge.  I was happy to be the "best" helper.  In grade school, I was the "line leader," I clapped erasers at the end of the day and was assigned to write down names when the teacher left class to make copies.  I was the first 3rd grader to become a safety guard at Chamberlayne Elementary School, a job typically only for fourth and fifth graders.
I wrote a letter to my principal explaining that I should be chosen. I told him that my age nor my size should matter, but instead he should look at my bravery, my excellent citizenship awards and good grades.  I felt much pride wearing my bright orange safety patrol belt and shiny silver badge home to show my mother.  I was unbothered by those that laughed at me as I marched with my chest puffed out.
By fifth grade, I was captain of the safety guard.  I was a member of 4-H, and I was a Girl Scout.  I was a part of student government and played sports. 
After high school, I joined the military to pay for college.  From a very early age, I understood the importance of being "civic-minded. "For me, the act of giving, means more than receiving.  I was raised understanding everything I achieved was based on what I was willing to sacrifice to get it.  I knew nothing would come to me unless I earned it, demanded it, asked for it, worked for it, argued against it, or argued for it. To this day this is still how I operate. 
I am the first woman in my family born with all my constitutional rights.  Some people don't understand that 50 years ago in Richmond, Virginia, this version of a woman did not exist.  I feel compelled to celebrate being a woman. Nobody looks like me when I walk into meetings with other law enforcement agencies in Virginia.  I am doing what few others can say they have done.  I believe in my purpose.
I am blessed to have a wonderful husband and beautiful sons—my family is fantastic.  I'm grateful to GOD to have worn this uniform and to have worked with the best officers in the world.
I am thankful to every female officer that made the way easier for me; Renee, Odetta, Albertina, Jennifer, Cindy, Sharon, and many others.  It's my responsibility continue to strive to be brave, strong, and determined like the women before me.
Some great officers are out there, but two stay on my mind.  They are indeed the future of women in law enforcement.  One has my attitude and the other my HEIGHT!  (They work in the 3rd and 4th precincts, respectively). I can't wait to see who they become.
---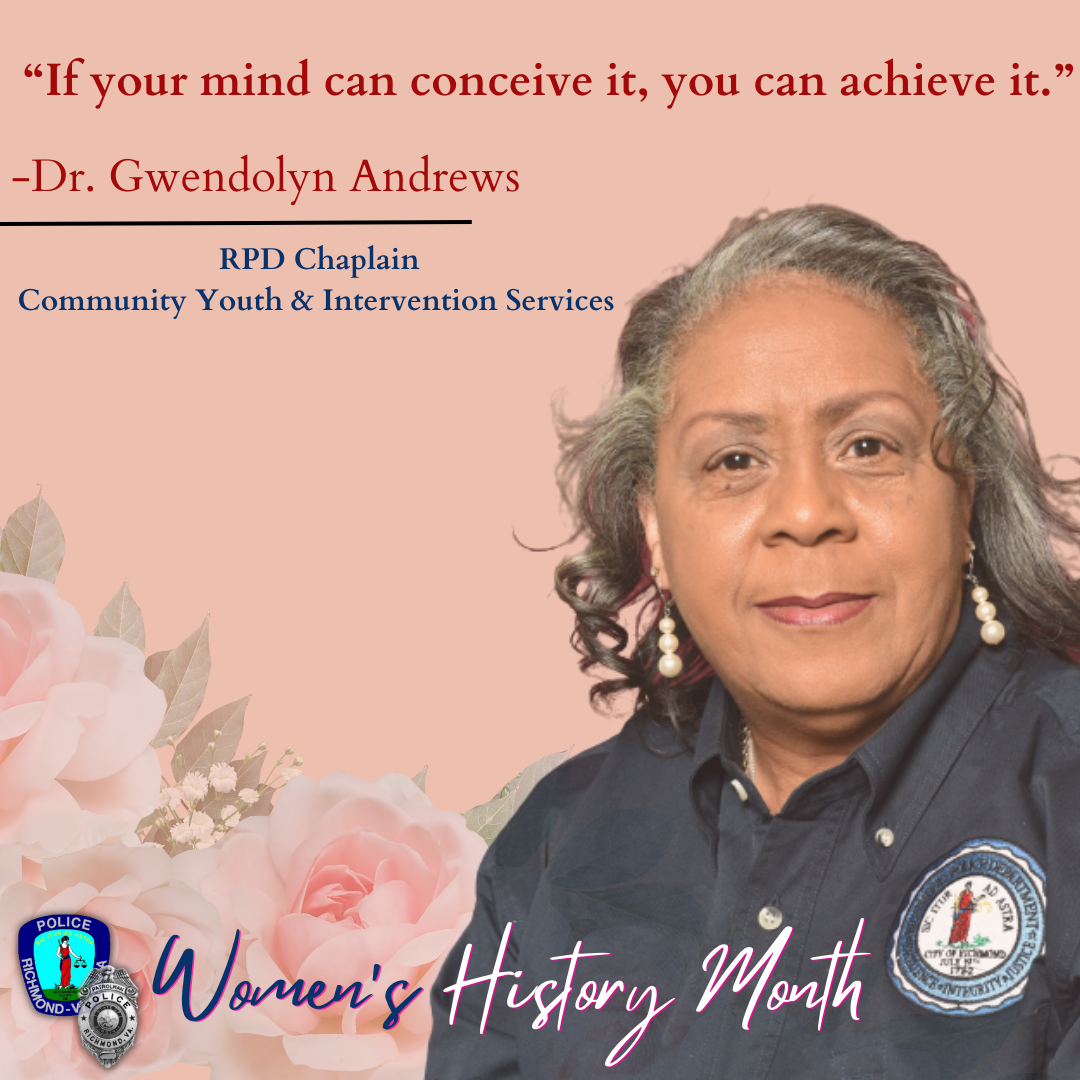 Gwendolyn Andrews, Ph.D.
RPD Chaplain, Community Youth & Intervention Services
Author and Reverend
RPD Family member since September 2022
"If your mind can conceive it, you can achieve it."
I'm a product of a broken home and having earned my doctorate from Howard University in 2020 is an accomplishment I'm very proud of. As a black woman, having this degree gives me the ability to instill hope in kids who come from a similar background, where the odds may be stacked against you. I am the supervisor of a brand new outreach support program whose mission is to stop violence among young people before it occurs and to decrease the preponderance of violence in our city. I'm energized to be a part of a team that is working to bring common values, more peace, and respect for human life to members of our community.
Serving the least of these and those who are marginalized within our community has been a long-term passion of mine. I co-pastor a church here in the city and also provide pastoral support through the RPD Chaplaincy in service to our officers and community members affected by crime. Having recently joined the RPD family, I have seen first-hand the human side of police officers. They are moms, dads, brothers and sisters who at the end of the day, are committed to keeping you and I safe and they too want to make it safely home to their families.
Throughout my life there have many so many women who have inspired me. My grandmother was a constant source of strength, teaching me the value of a strong work ethic and making sure I had a spiritual foundation. I was inspired to write a book about her life entitled, "Grandmas New Shoes"   including reflections on how she inspired her children, grandchildren and community through her selfless acts of love and kindness.
Another women I continue to draw inspiration from is Dr. Olivia Garland (ret.) who became the first Black director of Central State Hospital in 1985 leading a physician staff of all males. She rose above all kinds of challenges, overcoming the status quo and perception of where she should be. That inspires me. Despite the challenges and barriers we all face, you can achieve what you set your mind to.
That's why I'm so passionate about young people here in Richmond. Many of the kids in our community have no hope. I am here to change that. Remember, if your mind can conceive it, you can achieve it.
---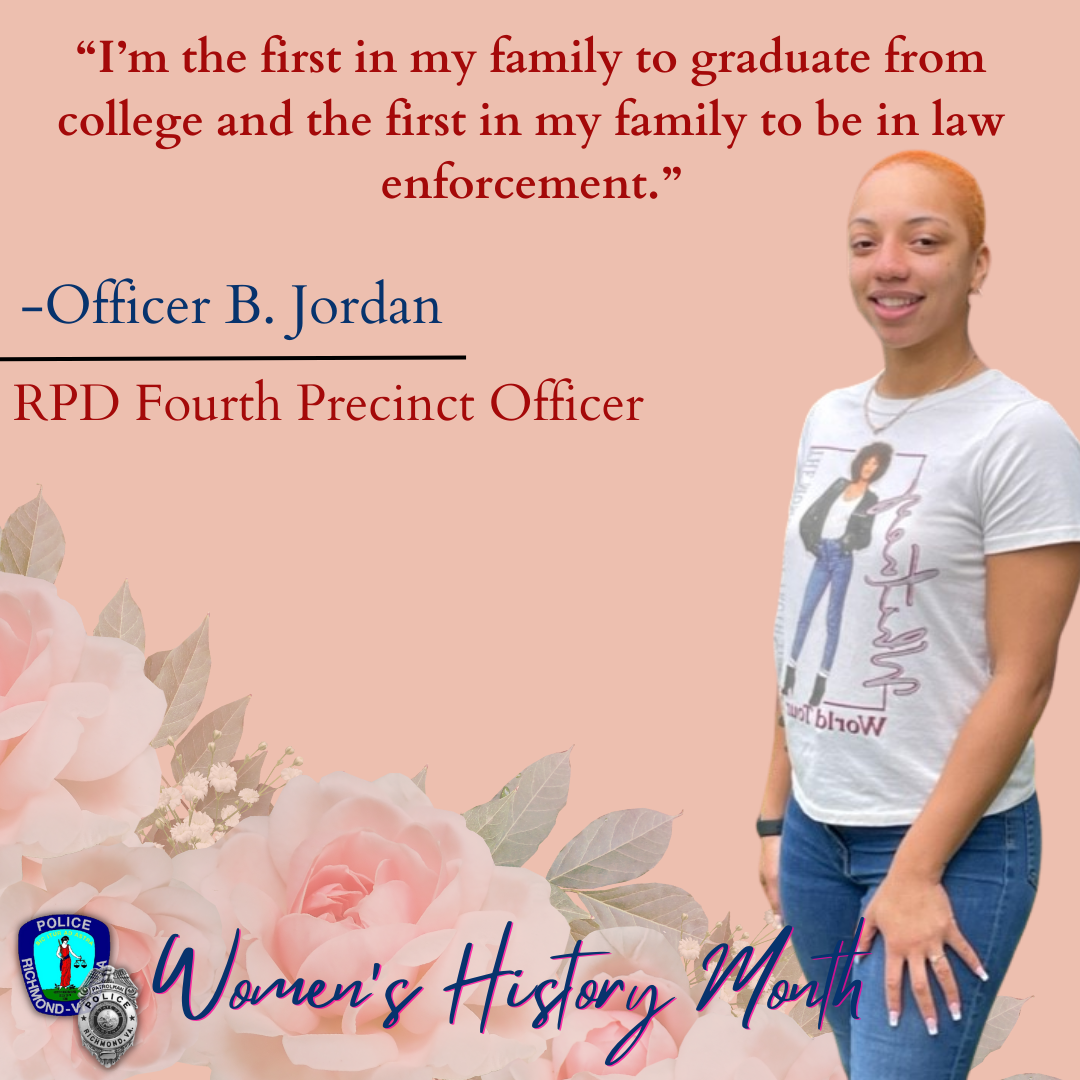 Brandi Jordan
Patrol Officer, Fourth Precinct
RPD Family member since 2021
"I'm the first in my family to graduate from college and the first in my family to be in law enforcement."
I have learned that everything comes together, you just have to be patient. As a native Richmonder, I grew up on the Southside as the 'middle kid' in a family of six. I was first in my family to graduate college, earning a science degree from Virginia Union University in 2016.
Before joining the Richmond Police Department I worked with senior citizens in a rehabilitation center and discovered I loved helping people. I bring my passion for people to my job as a patrol officer with the Richmond Police Department as well as skills I learned while working in the mental health field.
I joined the Department in 2021 and going through the Police Academy taught me discipline and the value of teamwork. I approach my role as a law enforcement officer with empathy. You have to treat people as human beings first and I try to show them that I care.
Going through crisis intervention training (CIT) with the Department, I really saw how all the pieces were connected. Understanding that everyone's experience in life is different will take you a long way in practicing empathy. One of my biggest encouragers has been an RPD woman. Major Sybil El-Amin Jones inspires me to be a better person and to be a better police officer. She cares and because I know that, her words carry strength and power. She sees the best in you.  
One of the biggest rewards of being a police officer is hearing a citizen tell me, "thank you," it really makes me feel good. But if someone never says that to me, and I help someone and I see them smile, that's all I need. Because that's what I'm here for and it makes me happy.
My youngest sister just graduated and will head to college soon and believe me when I say, it is a real accomplishment for our entire family. My sister wrote me a letter that I cherish. In it, she said, I want to be like you, I want to be a strong woman (yes, I'm holding back tears as I share this with you).
At 30, it feels so good to be the age that I am and to be right where I want to be.
I'm grateful. 
---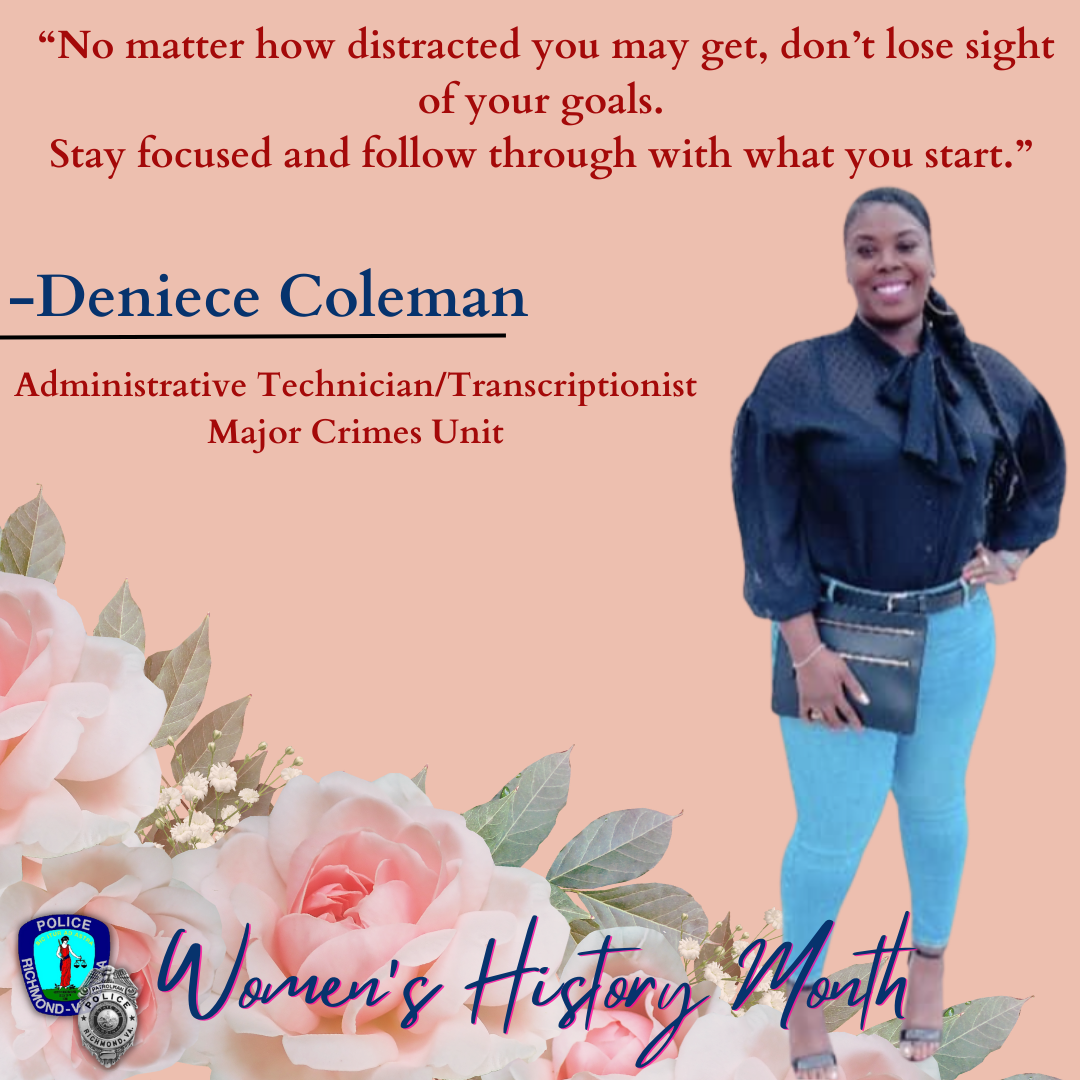 Deniece Coleman
Certified Transcriptionist, Major Crimes Unit  
RPD Family member since 2007
"No matter how distracted you may get, don't lose sight of your goals. Stay focused and follow through with what you start."
Going on my 16th year as part of the RPD family, I draw energy and encouragement from other women I work with. They give me the drive to keep going and to never give up.
I'm a daddy's girl at heart, so growing up he showed me how to keep my head on straight and instilled in me a strong work ethic.
Before coming to RPD, I worked for the Police Credit Union and met so many people from RPD's property and evidence unit. One day, one of the staff members encouraged me to apply for a position within their unit.
I was hired and I eventually worked my way up to the Major Crimes Unit where I transcribe information for detectives that can be used in a court of law.
I'm celebrating the second anniversary of having earned my certification as a legal transcriptionist within the Commonwealth, which I'm so proud of. This allows me to bring an expertise from what I learned to my job.
I'm known for walking around the office cutting up and laughing which is an outlet for me. Listening to a lot of talking day in and day out, for balance I need quite time. I find strength in self-reflection and reading.
I'm currently reading 52-Weeks of the Bible and it keeps me grounded and aware of who I am. If I could go back in time and give the younger me a piece of wisdom, I would impart that no matter how you might get distracted, don't lose sight of your goals. Stay focused and follow through with what you start.