Contact Us
Planning and Preservation Office
900 E. Broad St., Room 510
Richmond, VA 23219
Monday - Friday 8 a.m. - 5 p.m.
Master Plan and Other Documents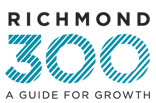 On July 18, 2017, the Department of Planning and Development Review launched the update to the City-wide Master Plan, named Richmond 300: A Guide for Growth. City Council adopted it in December 2020. For all information about Richmond 300, visit the landing page.
Links to Master Plan & Other Plans