Mayor Stoney announces five new green spaces in Southside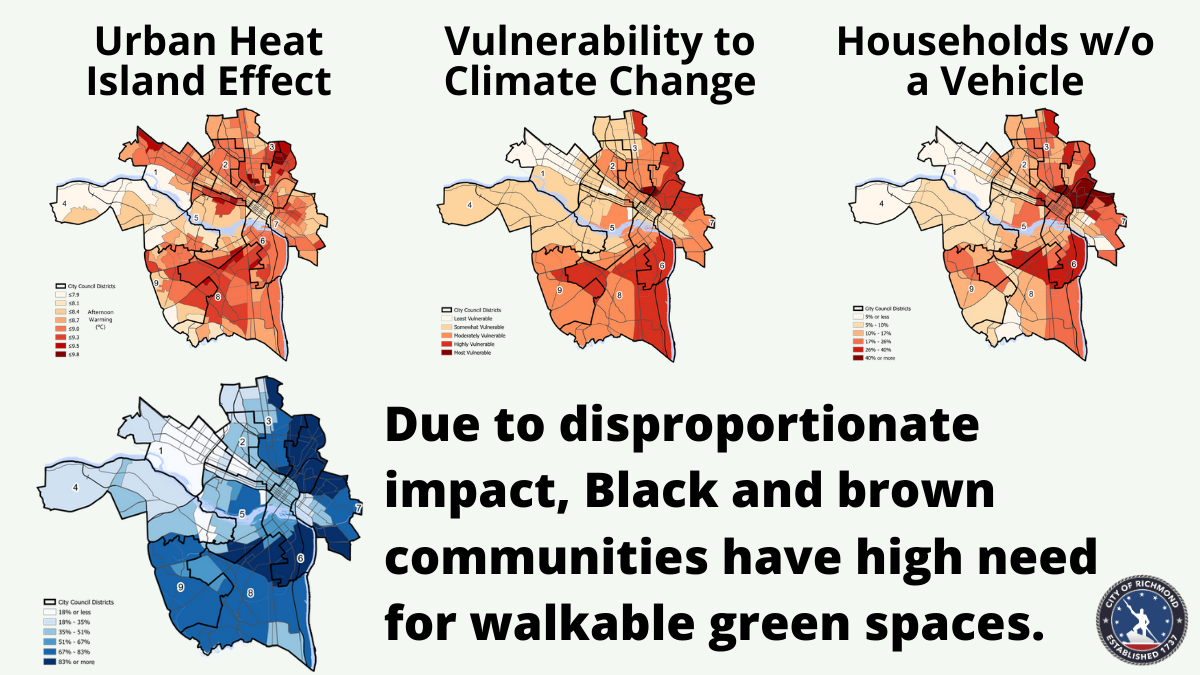 At a press conference near Broad Rock Creek, Mayor Stoney announced that his administration has identified five unused parcels of city land that will be converted into public green spaces. 
The spaces are as listed below:
1.       Broad Rock Creek Parcels:            S0080418002, S0080276004 (Windsor Neighborhood)
2.       Hioaks Water Tower Parcel:         C0050879024 (Hioaks)
3.       Rear Ernest Road Parcel:                S0090417036 (Ampthill Heights is closest?)
4.       Reedy Creek Wetland Parcel:        C0050992011 (Beaufont)
5.       Rosemont Road Parcel:                 C0060659036 (Woodhaven)
"The benefits of green spaces are irrefutable and unmatched, and it's clear that not everyone in this city has been afforded those benefits," said the mayor. "It's our job to intentionally correct that injustice."
The parcels total over 36 acres of new green space. This is in addition to the 20 acres of new parks the Stoney administration has added and 287 additional parks acres that will be protected from development through conservation easement by the end of the year. 
In his most recent State of the City address, the mayor set a goal of ensuring every Richmonder had a green space within a ten-minute walk from their home. To that end, he convened the Green Team, a group of key stakeholders and experts, to drive policy decisions and lead parcel selection for new spaces.
The Mayor's Green Team determined, using the city's Climate Equity Index, that need for green space was highest in the city's Southside, primarily in communities of largely Black and Hispanic representation. 
All five parcels are located in the Southside of Richmond: three in the Eighth Council District and two in the Ninth. In the areas surrounding the chosen parcels, the average walk to the nearest greenspace is the highest and heat islands are a more prevalent problem.
"Regardless of a child's race, ethnicity, gender, family income or zip code, they should be able to walk down the street and spend a summer afternoon in a welcoming, verdant space," asserted the mayor. "Due to systemic racism, that's now how our city was designed. We have a chance to right that wrong, and we're starting with these five green spaces."
The green spaces will be designed using neighborhood input. Each community's vision will be brought to life through the hard work of the participants in the Department of Parks, Recreation and Community Facilities workforce development program. The program consists of formerly incarcerated individuals and Office of Community Wealth Building participants learning new skills to build a stronger community and improve their future professional outcomes.
The mayor will formally introduce the ordinance at the September 28 meeting of Richmond City Council. Councilmembers Trammell and Jones will copatron the legislation.
The City of Richmond currently uses six percent of its land for parks and recreation, compared to the nationwide median of 15 percent.
Quotes from the Mayor's Green Team:
Frazier Armstrong, Executive Director, Capital Trees: "Now more than ever, greenspace matters. The pandemic has revealed the necessity of a robust, connected, equitable and nature-rich public realm, a vision the Green Team is dedicated to making a reality in Richmond. Capital Trees is proud to be a part of this transformational effort."
Nissa Dean, Virginia State Director, Alliance for the Chesapeake Bay: "The Alliance was honored to participate as a member of the Mayor's Green Team. We have been partnered with RVAH2O and DPU for over ten years to help create green spaces that will improve the health of our communities and the James River. We look forward to continuing to support this effort and are committed to helping Richmond reach environmental equity and sustainability goals."
Dr. Jeremy Hoffman, Chief Scientist, Science Museum of Virginia: "We know that the shade of a deep green park can be up to 16°F cooler than the surrounding neighborhoods here in Richmond. Establishing new parks where they're needed most with community input will make those residents exposed to heat inequity more resilient now and into the future."
Brianne Mullen, Office of Sustainability: "The RVAgreen 2050 Climate Equity Index shows that Richmonders who live in areas experiencing extreme heat, are more at risk to climate change impacts and lack a vehicle are often people of color. These new green spaces represent an important step toward addressing these inequities not only when it comes to access to green space, but also toward creating a healthier and more resilient Richmond for all."
##