CITY COUNCIL BOARD VACANCIES
 All applicants must live and/or work in the City of Richmond, unless otherwise specified.

An asterisk (*) next to a vacancy indicates an absolute vacancy, which means that the seat is vacant or a member eligible for reappointment is not interested in an additional term. 

 If you would prefer to download an application and submit it via email, mail or fax, click here

 Questions about vacancies and/or qualifications? Contact CityClerksOffice@rva.gov
Contact Us
City Clerk
900 E. Broad St., Suite 200
Richmond, VA
23219 USA
Fax: (804)646-7736
Hours
Monday-Friday
8:00 a.m. - 5:00 p.m. 
BOARDS AND COMMISSIONS
The application deadline for boards and commissions is September 15, 2022.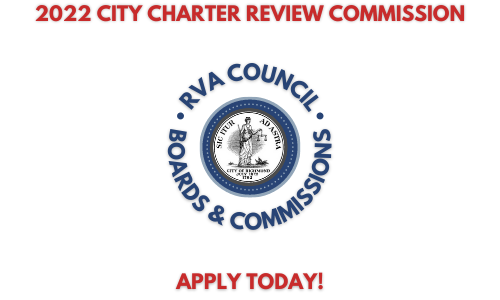 On March 14, 2022, the Richmond City Council voted to adopt ORD. 2021-347, which established the 2022 City Charter Review Commission to conduct a comprehensive review of the City Charter with the objective of making recommendations for appropriate revisions thereto. There will be nine (9) members appointed to serve on the Commission. 
Each person qualified to serve on the commission shall meet one or more of the following qualifications:
A person with substantial experience in local government, based on either practical experience or academic research; or
A person who is a citizen-at-large of the City
No officers or employees, as of the date on which this ordinance is adopted, of the City or of any authority or other political subdivision operating in the city, shall be eligible for appointment to the Commission. 
Membership shall be otherwise governed by § 2-767 of the Code of the City of Richmond (2020), as amended.
Additional information regarding the responsibilities and duties of the board may be found within the establishing ordinance linked here: https://richmondva.legistar.com/LegislationDetail.aspx?ID=5360520&GUID=…;
Apply now using the City Clerk's Application Portal or by submitting a .pdf application via e-mail, mail, fax, or in-person at City Hall.