Contact Us - Parks & Recreation
Address:
1209 Admiral Street 
Richmond, VA
23220 USA
Email: Ask Parks and Recreation
Phone: (804) 646-5733
Inclement Weather Line Number: (804) 646-0751
Social Media: 
Click HERE to view Instagram
Click HERE to view Facebook
Click HERE to view YouTube: 
Click HERE to view Twitter
Park Rules
Park hours are from sunrise to sunset
Glass is prohibited in city parks
No parking on the grass
No amplified music without a special permit
Dogs are allowed only in the following parks:

Barker Field dog park
Byrd Park
Chimborazoo dog park
Forest Hill Park

Service dogs are allowed in every park
No alcoholic beverages are allowed in city parks
No open fires are allowed outside of park fireplaces and grills
No golf or archery is allowed in city parks
No tents, stages or other special apparatus is allowed without a permit
No cutting of park trees or shrubs in city parks is allowed
James River Park System
4301 Riverside Drive, Richmond, VA (23219) [Downtown, East, South, West]
Huguenot Flatwater: Universal Access Ramp Project 
The James River Outdoor Coalition (JROC) and PRCF are working together to increase accessibility and enjoyment of the river -- with the construction of a universal access ramp at Huguenot Flatwater. Once completed, the proposed ramp will allow all citizens a safe pathway to the River's shoreline. Please view the project's timeline below.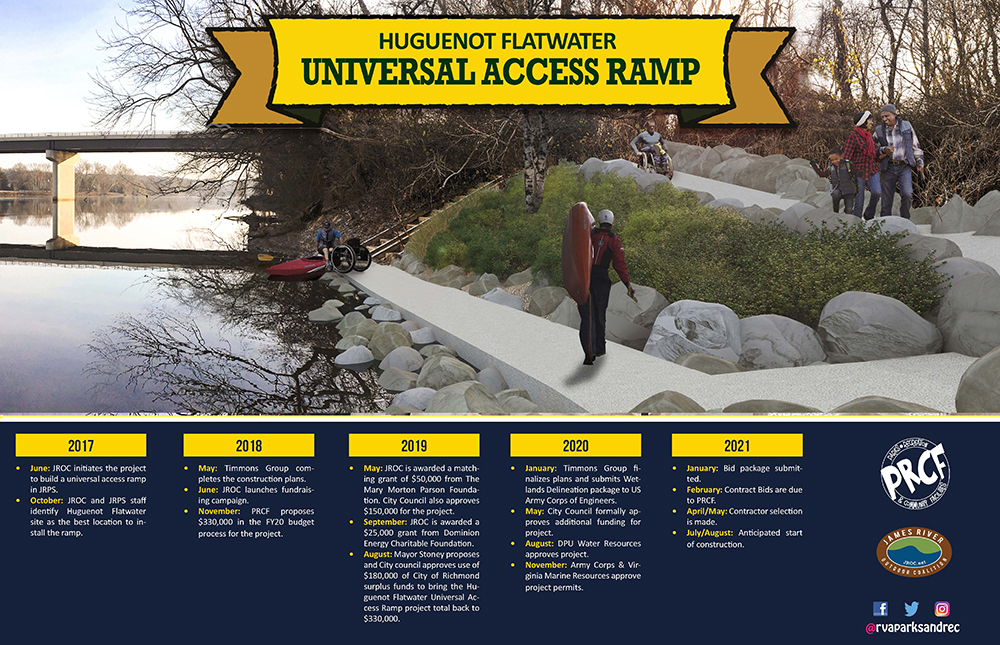 JRPS is still available for you to enjoy, but we ask that you follow the recommended COVID-19 restrictions of social distancing, wearing a mask and washing your hands frequently to prevent the spread of the virus. 
Richmond's largest, most unique and best known park is actually a system of parks along both sides of the James River as it passes through the city, making Richmond the only urban city in the country with Class IV white water rapids in the middle of downtown. The 550-acre park itself is an area of unspoiled natural beauty and adventure recreation unlike that found in any other city in the country. It is internationally known as the site of the XTERRA triathlon and has been recognized as the Southeast's Best Urban Park and named Best in Dirt for its running trails.
Recognizing its great value, in 2009 the city placed a conservation easement on the park, legally protecting it from development. With its headquarters at Reedy Creek at Riverside Drive at Hillside, the park stretches from Ancarrow's Landing on the East to Huguenot Flatwater on the West.
The park's wilderness shoreline amid woods, islands, meadows and rocks offers opportunities for canoeing, kayaking, tubing, walking, jogging, hiking, rock-climbing, biking, fishing, boating, swimming, sunning, bird -watching, and nature study, with many of these activities just blocks from the City's downtown residential, business and financial district. The park trails are excellent for hiking and mountain biking and offer new enjoyment in each season.
For more information, a park map can be purchased for $2 at Park Headquarters .
The park is open from sunrise to sunset. No alcoholic beverages, glass containers or unleashed pets are allowed in city parks.
By law, when water levels are at 5 feet and above, everyone on the river must wear a lifejacket. When water levels are at 9 feet or above, no one is allowed on the river without a permit.
Park Headquarters: (804) 646-8911
River Levels: (804) 646-8228 
Park Rules
Park hours are from sunrise to sunset
Glass is prohibited in city parks
No parking on the grass
No amplified music without a special permit
Dogs are allowed only in the following parks:

Barker Field dog park
Byrd Park
Chimborazoo dog park
Forest Hill Park

Service dogs are allowed in every park
No alcoholic beverages are allowed in city parks
No open fires are allowed outside of park fireplaces and grills
No golf or archery is allowed in city parks
No tents, stages or other special apparatus is allowed without a permit
No cutting of park trees or shrubs in city parks is allowed
Community Gardens
4308 Hermitage Road, Richmond, VA (23227) [Northside]
Call us to find out how Richmond Grows Gardens in the city.