Paragraphs
How to Reach Us
Need to submit a service request?
Reach us by phone
During the Call Center hours listed below
Call us at 3-1-1 or 804-646-7000
Or Submit Anytime
on RVA311.com 
Or download our mobile app

For non-311 issues, see our Helpful Numbers page.
Call Center Hours
Monday
8:00 am - 5:00 pm
Tuesday
8:00 am - 5:00 pm
Wednesday

9:00 am – 5:00 pm **

Thursday
8:00 am - 5:00 pm
Friday
8:00 am - 5:00 pm
** Opens late to allow for agent briefings
Call Center is OPEN during the hours listed above regardless of weather.
Call Center is CLOSED on weekends and City holidays.
Our Mission in RVA311
To empower Richmond resident to get their non-emergency service needs met and help City government understand and respond to citizen needs effectively, with high customer satisfaction.
What we do...
We assist residents by getting their non-emergency concerns or questions answered - or delivered to the correct team for investigation - so services or assistance can be provided. Our highly trained call center agents, and our intelligent self-service website and mobile apps handle requests for potholes, sidewalks, stormwater, tax billing, streetlights, social services programs, and more.
We partner with over 20 different City agencies within the City and in 2021, RVA311 provided assistance or supported our City partners in responding to over 81,000 requests.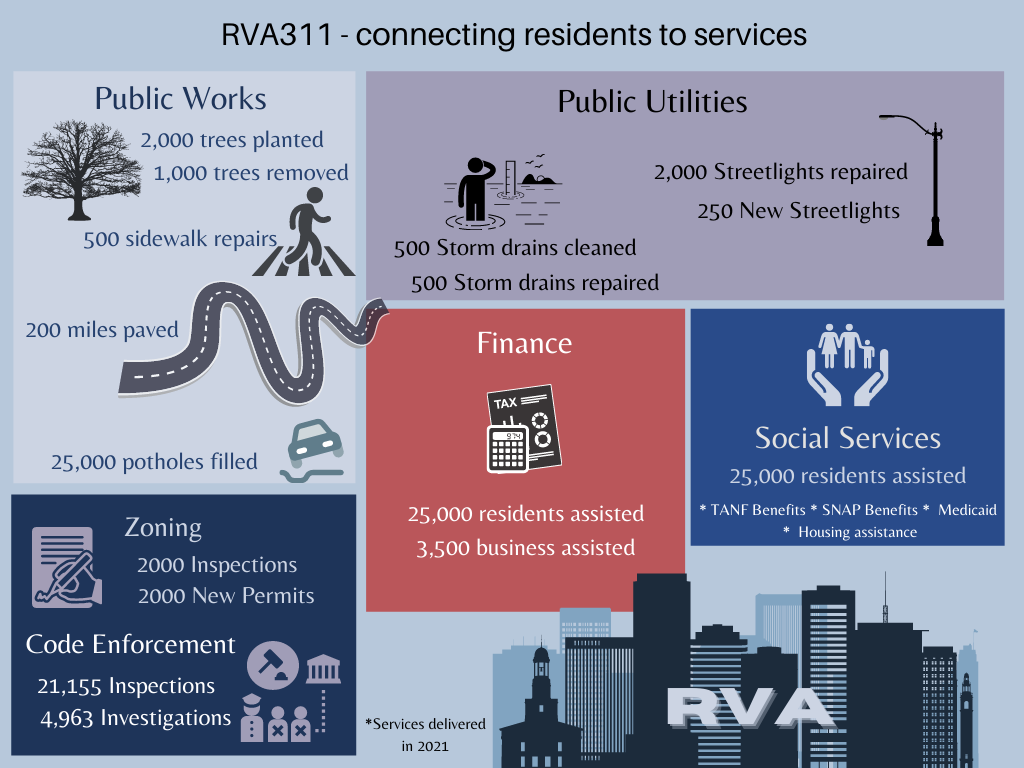 Multiple Ways to Submit
We strive to make access to non-emergency information, care and services as easy as possible for all Richmond residents and visitors. 
Requests may be submitted by telephone, online or by mobile.  Our self-serve web portal and mobile apps are available 24 hours a day, 7 days a week.  And our helpful customer service representatives are available in our 3-1-1 Call Center during our normal Call Center hours posted at left.
Dial 3-1-1
311 is an easy-to-remember telephone number that connects residents or visitors with specially-trained customer service representatives who can assist with many requests for non-emergency City services.  These may include requests for social assistance or inquiries related to taxes and tax deadlines, as well as non-emergency infrastructure concerns such as potholes or other road repair needs, damaged or non-working street lights, damaged trees, trash collection and many others.
Residents or visitors can call Monday - Friday during business hours posted to the left. Our knowledgeable and helpful call center representatives are ready to help.
Just dial 3-1-1 if inside the City of Richmond. 
If you are outside city limits - call 804-646-7000.
Our 311 customer service representatives will ensure your request is routed to the appropriate City department for action.
Using 311 can reduce the number of non-emergency calls to 911. This allows emergency personnel to focus on critical, often life-threatening calls.
Our Call Center opens one hour later on Wednesdays to allow time for representatives to receive the latest briefings and training needed to provide all callers with excellent customer service.
The Call Center does not close for inclement weather, but is closed on weekends and City holidays. 
As one might expect, call volume varies week over week, depending on what is happening in the City and with the various partner agencies we serve.
In 2021, our team handled over 157,000 calls - that is over 13,000 calls per month.  In a normal five-day week, our Call Center assisted between 600-1000  callers per day. 
Typically 65 to 75% of all calls handled by the call center are Social Services or Finance inquiries. Providing an option for residents to speak to a representative and explain their need or situation in greater detail can be very helpful in complex and often stressful situations.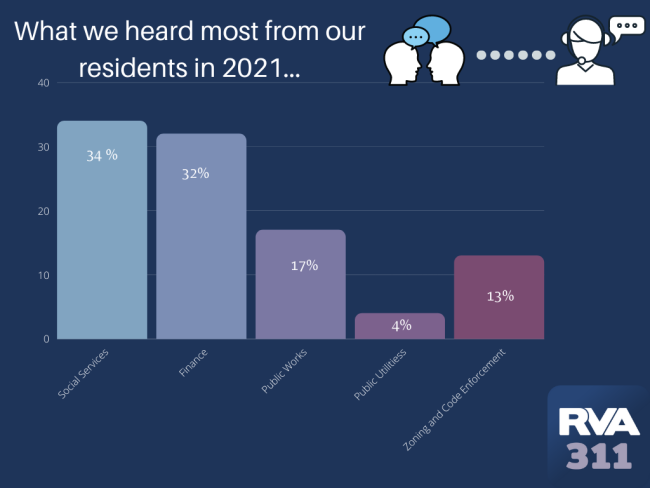 Respecting Your Time
During these significant events, callers may experience longer than normal hold times, or even be encouraged to call back at a later time.
See the separate busy times and seasons tab for more details on the best times to call to avoid such delays.
Our RVA311 call center team includes 16 specially trained and knowledgeable customer service representatives.  Each representative may answer 50 to 60 calls per day from  current, former or temporary residents, business owners, or visitors to the City.
When possible, our representatives strive to resolve callers' concerns or questions during the call. If that isn't possible, he or she will submit a request on behalf of the caller, making sure it is the correct request type so the 3-1-1 system can route the request to the appropriate City agency for attention. 
Our representatives receive briefings daily as well as intensive weekly training about the wide variety of programs and initiatives our partner agencies manage. Representatives are briefed on the latest social benefit or tax relief programs, tax bill mailing schedules, filing deadlines, and due dates, changes to code enforcement or zoning regulations, and changes to trash and recycling schedules, just to name a few.
Our dedicated team is well-informed team and always happy to assist you.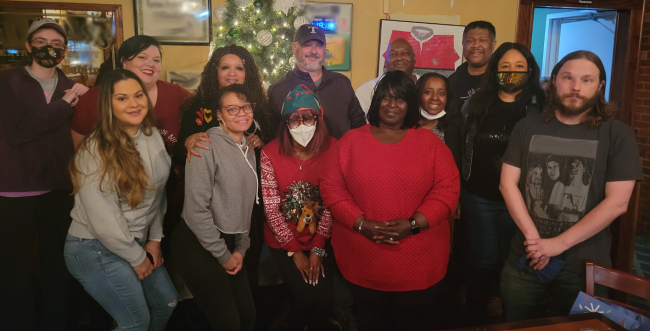 Having awareness of our busiest times and seasons can help callers avoid longer than normal hold times.  
Out of respect for your time, when more than 25 calls are holding in the queue, we may disconnect your call and encourage you to call back at a less busy time. 
Busiest Days:
Mondays
First business day of the month when most social benefits are renewed
First business day following a holiday 
Busiest Hours:
9:00 am - 12:00 pm
Busiest Seasons:
First week of January: When many social programs and benefits renew
Personal Property Tax Season: Mid-April through Mid-June most years
Personal Property Tax Season - Delinquent Notices: Mid-July most years
Submit 24/7
For your convenience, you may submit your request for many non-emergency services any time, day or night on our convenient Public Portal, or by downloading our free mobile apps for iOS or Android.
Visit  RVA311.com
 Get the RVA311 Mobile App - Free in the App and Play stores
Create an Account for More Benefits
With our online and mobile tools you can register for an account allowing you to easily submit new requests, track your existing requests, follow the requests of others, or show support for an existing request by Upvoting the request.
Helpful Overview Available
Check out the video below to see features and quick tips on using the Public Portal and mobile apps.  Also be sure to check out our How Do I section for more on how to get the most out of your RVA311.
RVA311 and Your Privacy
At RVA311, we take your privacy seriously. While we may collect name and contact details for your request, we make sure no personally identifiable information is visible to other users of our web portal or mobile app. Your personal information is only visible to the City's internal teams addressing your concern in case they need to contact you for more information.
For requests where the need to contact you directly is unlikely, we offer the option to submit your request anonymously.
RVA311 partners with over 30 different departments, agencies and teams within the City.
Public Works
Public Utilities

Solid Waste
Bulk and Brush
Grounds Maintenance
Right of Way Management
Transportation and Safety
Parking Enforcement
Urban Forestry
Streetlight Engineering
Streetlight Maintenance

Social Services
Finance and Revenue

Benefit Application and Eligibility
Adult Services
Child Protective Services
Homeless Services

Personal Property Taxes
Business Property Taxes
Real Estate Taxes
Business Licensing
Collections

Planning and Development
Other Partners

Zoning and Permitting
Code Enforcement

Non-emergency Police
Animal Care and Control
Office of Elections
Submitting a request is easier than ever. You can submit online at RVA311.com or use our RVA311 mobile app 24 hours a day, 7 days a week. 
If you prefer to speak to someone, you contact our call center during the operational hours posted on the left panel of this page.  Just dial 3-1-1 or if you are not in the city, you can call 804-646-7000. 
For more helpful tips, see our RVA311 FAQ's.
The easiest way to track your service requests is by creating an account on RVA311. Then by signing in and navigating to the "Track Requests" link you can track service requests you submitted, or requests of other residents that you have opted to "Follow"
If you do not have an RVA311 account, you can still search for any PUBLIC service request you submit using the request ID.  This ID will be usually be emailed to you if you provide your email address at the time of submission. If you are submitting via phone with our call center, our customer service representative will provide you with the ID you can use to look up your request later in the web portal or mobile app.  Or provide the number to our call center representative if you call back to follow up.
If your request is PRIVATE such as social services or taxes/finance requests, your request can ONLY be viewed in the web portal or mobile app by using a registered user account. To protect your privacy, such sensitive requests are not visible on the public web portal. 
Check for an Existing Request
It's easy
Enter the address or intersection for the concern in RVA311.com or on your RVA311 mobile app.
Icons will appear on the map showing other requests within 1/10 of a mile of that location. 
Click on the icon to see more details and confirm whether your issue has already been brought to our attention.  
If your issue is already reported, and you have a registered user account, you can Follow your neighbors request to track progress and receive updates as the status changes.
Avoid Duplicates
For the efficiency of your City teams, we ask residents to avoid submitting duplicate requests.  Some things are important to us all, so common issues like streetlight outages, potholes, crumbling sidewalks, and damaged trees may have already been reported by another concerned neighbor.  Fortunately, RVA311 makes it easy to check for that so you can avoid duplicate reporting.