Contact Us
City of Richmond
Office Of Emergency Management
900 E. Broad St., Suite 1613
Richmond, VA
23219 USA
Make a Kit, Have a Plan, Stay Informed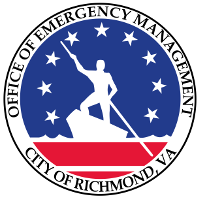 The CodeRED Emergency Notification System is used to send emergency notifications, including evacuation notices, missing child alerts and other notifications considered to be important. Residents and businesses located within Richmond City are encouraged to sign up for CodeRED to be sure they receive timely emergency notifications when alerts are issued. The CodeRED Emergency Notification System enables Richmond City to provide mass notifications in emergency situations.
Alerts are issued to you by your geographical location. Alerts can be sent to your mobile phone, land line, and email. Optionally you can sign up to receive CodeRED Weather Warning. These alerts are automatically generated when the National Weather Service issues a warning for your location. This early warning could prove to be life saving.
The CodeRED alert system is free to Richmond City residents and businesses. To sign up for CodeRED, click on the CodeRED picture on this webpage or click on the CodeRED registration link. It is a quick and easy process that can provide life saving benefits. Please share this information with your family, friends and neighbors.