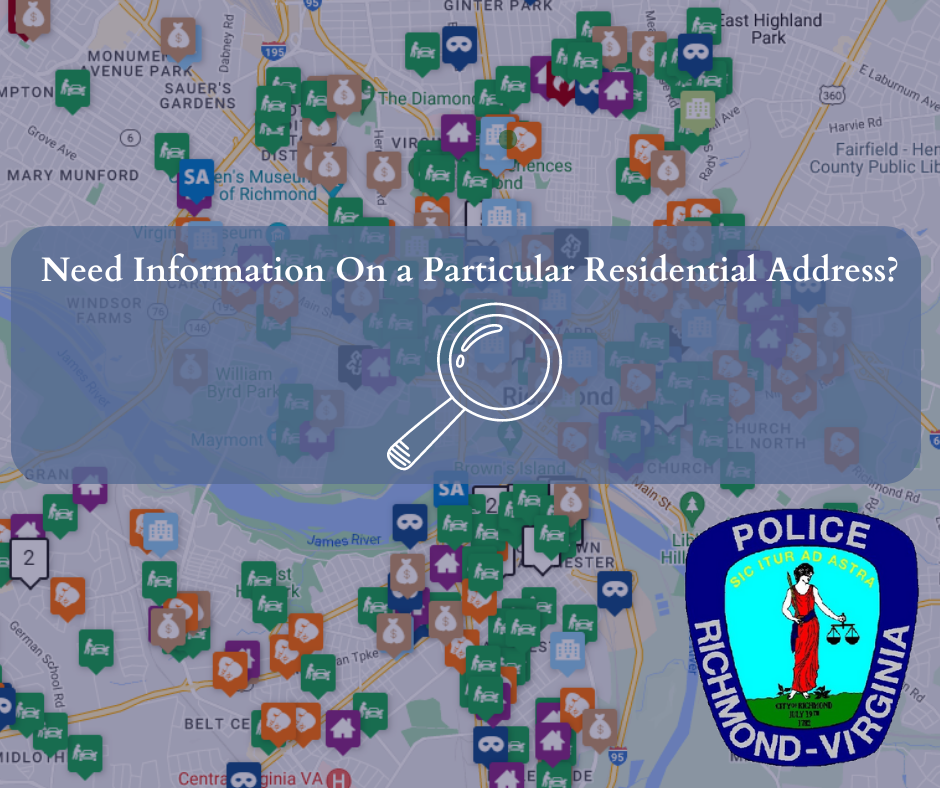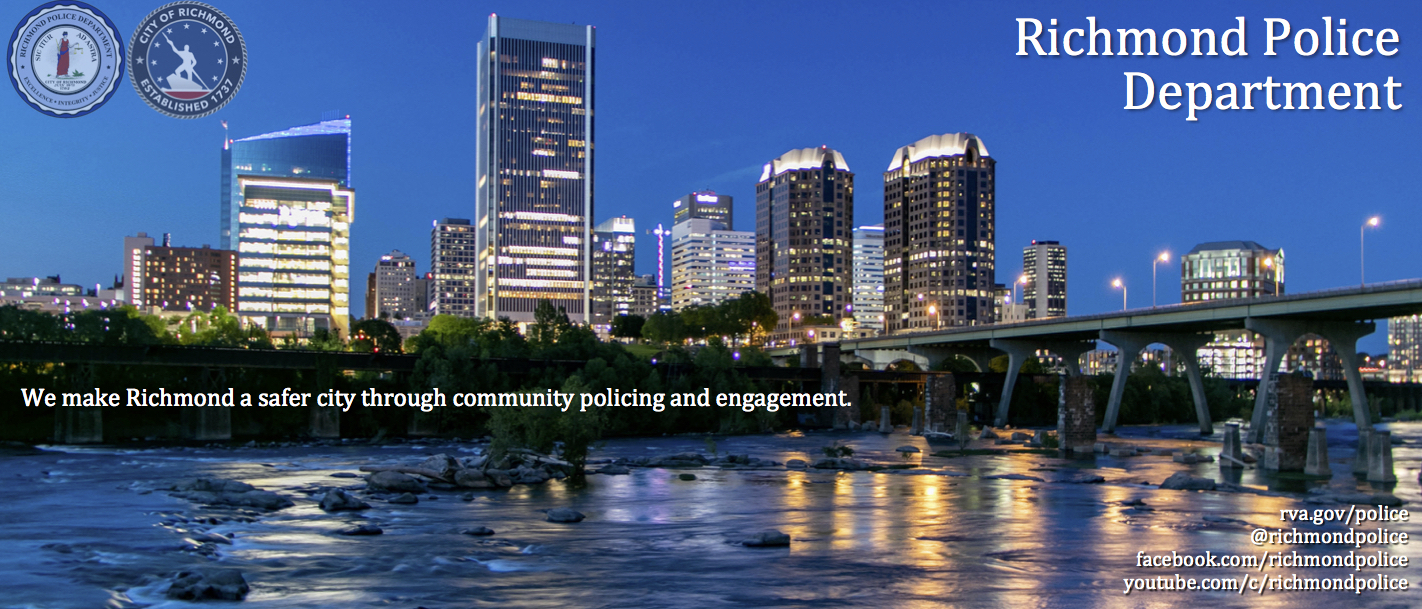 Richmond Police Department
---
Richmond Mayor Levar M. Stoney and RPD Chief Rick Edwards joined community partner organization Citizen's Against Crime to deliver turkeys and trimmings to families in need who are also victims of violent crime. Thanks to all who demonstrate care and compassion every day in our Richmond community - but especially during the holidays.
---
When the daughter of a fallen Richmond Police Department officer noticed the historical plaque honoring his memory went missing - she asked on social media for help in finding it. And the search was on.
---
RPD Chief Rick Edwards thanks the many agencies who partnered in Operation Safe Summer in 2023. "Leveraging these partnerships for the first time in five years was a force multiplier for safety." In this news conference, Chief Edwards provides stats from the Operation and trends from the third quarter.
---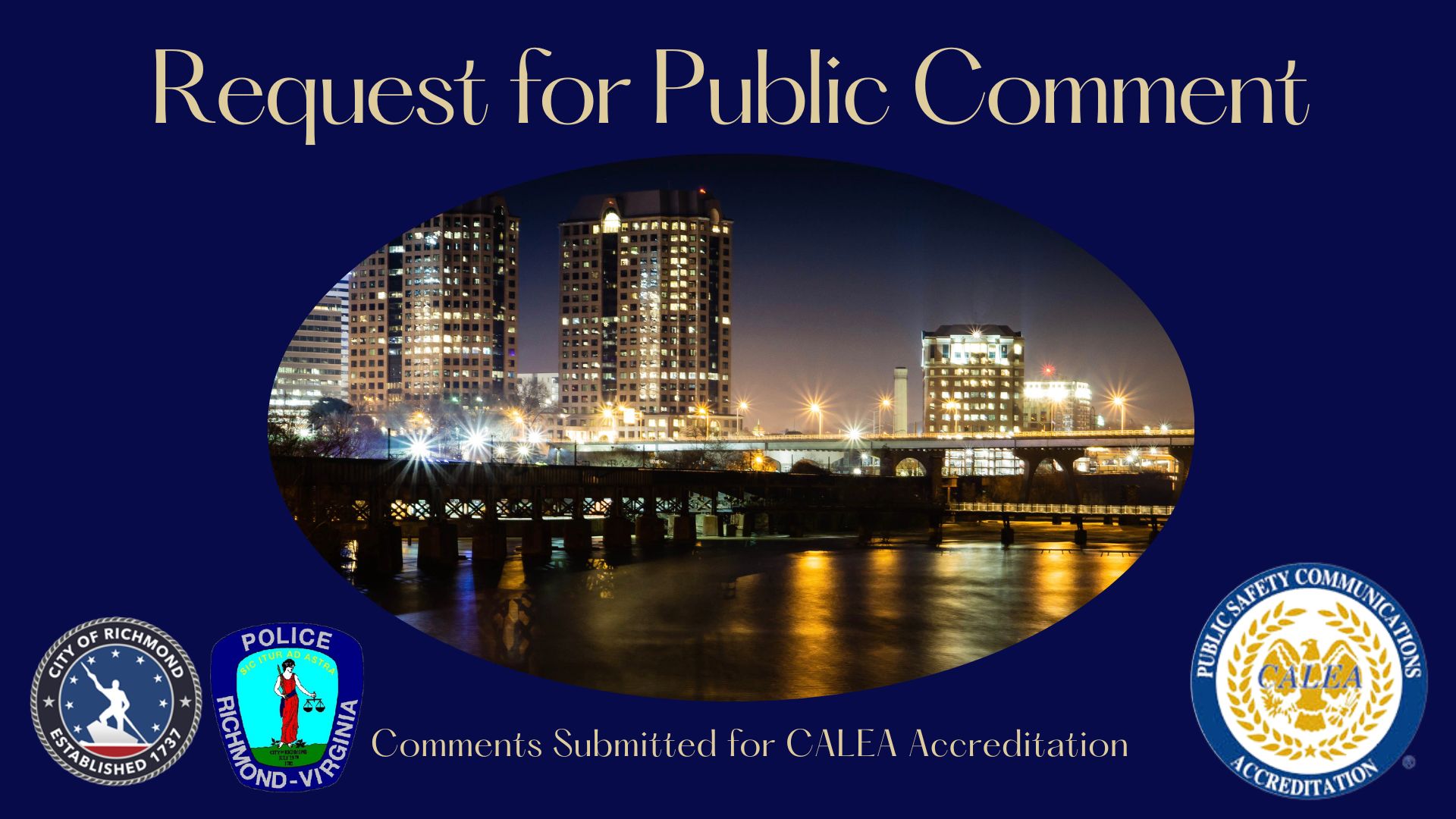 The purpose of this public portal is to receive comments regarding an agency's compliance with the Commission on Accreditation for Law Enforcement Agencies (CALEA) standards, engagement in the service community, delivery of public safety services, and overall candidacy for accredited status. These comments can be in the form of commendations or concerns. The general intent of the accreditation process is to provide the participating agency with information to support continuous improvement, as well as foster pursuit of professional excellence.
To submit a comment or commendation, click the image or click here: https://cimrs2.calea.org/300
IMPORTANT: CALEA is not an investigatory body and subsequently the public portal should not be used to submit information for such purposes. Additionally, there will be no response other than acknowledgement to submissions; however, the information will be considered in context to its relevancy to compliance with standards and the tenets of CALEA Accreditation.
---
The Richmond Police Department congratulates our newest officers who recently completed a successful journey through the basic recruit class!
As part of RPD's commitment to maintain trust and legitimacy, RPD has released this critical incident briefing related to the officer-involved shooting on January 9, 2023, that occurred as a result of serving a narcotics-related search warrant. **Viewer discretion is advised.
---
Chief Rick Edwards briefs the public on crime trends and RPD programs and operations in the first half of 2023.
---
Interim Chief Rick Edwards, Mayor Levar M. Stoney and RPS Superintendent Jason Kamras update the public about the shooting investigation from Monroe Park.
---
Interim Chief Rick Edwards charges the new leaders of the Richmond Police Department during the promotional ceremony on April 21, 2023. Congratulations to the three new lieutenants and seven new sergeants!
---
First Quarter Crime Briefing
Interim Chief of Police Rick Edwards addressed crime stats impacting Richmonders and shared the Department's public safety plans moving forward, highlighting opportunities for community members to engage.
---
Acting Chief Rick Edwards and the Richmond Police Department celebrate the graduation of the 125th Basic Recruit Class.
---
Acting Chief Rick Edwards and Officer Carol Adams participated in the poignant Saving Our Loved Ones event, an annual memorial at City Hall for families of homicide victims. This event connects with families in a meaningful tradition of empathy, support and togetherness.
---
Crime in Richmond - By the Numbers
View Internal Affairs Complaints
IAD Complaints will be posted the first of each month by 9 AM (Unless it is a City Holiday).
---
Richmond's Precinct Lineup
Click on your precinct's photo to view the list and contact information of those representing your neighborhood.
To find your precinct:
Visit Richmond Property Search
Type your address and select your property
Click the services tab. Under "Public Safety" you will find "Police Precinct" and "Police Sector."
---
The Richmond Police Department has joined the free Neighbors app by Ring to provide citizens of the city with real-time, local crime and safety information.

The Neighbors network already has millions of users and has been instrumental in catching package thieves, stopping burglaries, and keeping neighborhoods safe.

 

 

Download the next door app to stay up to date on what's going on within your Precinct area.  Personnel from each Precinct post updates on events and happenings within each area.
---
Interim Chief Rick Edwards presents the Crime Briefing for the First Quarter of 2023
---
Interim Chief Rick Edwards presents the end-of-year Crime Briefing for the 2022
---
Chief Gerald M. Smith's Third Quarter Report to the Community
---
Chief Gerald M. Smith's Second Quarter Report to the Community
---
Chief Gerald Smith provides information to the public about the officer-involved shooting on July 25.
---
Press Conference July 6
---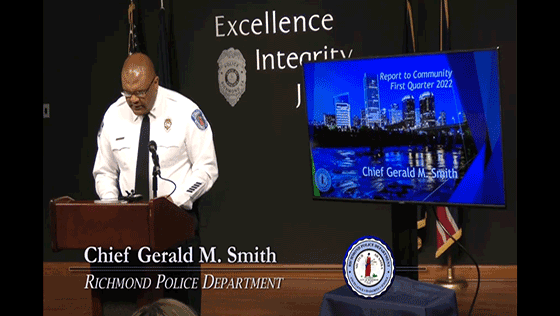 Chief Gerald M. Smith shares crime stats and RPD initiatives from the first quarter of 2022.
Here are some helpful ways to prevent package thefts.
---
Prevent Auto Theft
Lieutenant Hogan reminds everyone that - even when making a quick stop - turn off your car and take your keys to help prevent auto theft.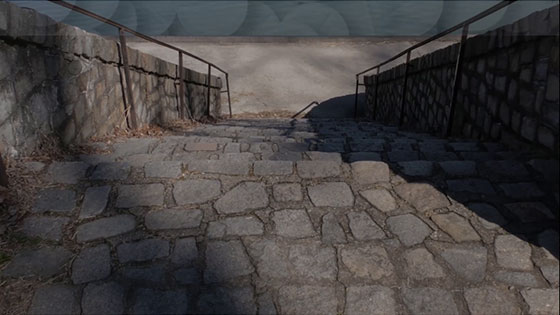 "As we continue to re-open following the pandemic – we must all focus our efforts at mitigating this other health crisis – the calamity of opioid abuse." said Richmond Police Chief Gerald M. Smith. "If you or a loved one is suffering with addiction I urge you to seek treatment from the region's health professionals or reach out to one of our officers for guidance to help find the way."
 
Our Vision:
The City of Richmond is a thriving community offering safe neighborhoods and an enhanced quality of life through responsive action, communication and public trust.

Our Mission:
We make Richmond a safer city through community policing and engagement

Our Values:

Accountability
Community-Focus
Professionalism
Shared Trust
Integrity
Innovation

 

 
The Richmond Police Department is accredited by the Commission on Accreditation of Law Enforcement Agencies (CALEA).