Contact Us
City of Richmond Police Dept. 
Phone Numbers:
  Police Administration - (804) 646-0400
  Emergency: 911 - Call if you can, text if you can't
  Non-Emergency or to file a Police Report:
  (804) 646-5100
Address:
  200 West Grace Street
  Richmond, VA - 23220
RPD EEO Policy
 "The Richmond City Police Department is fully committed to attracting, retaining, developing and promoting the most qualified employees, without regard to race, gender, color, religion, sexual orientation, national origin, age, physical or mental disability, veteran status or other characteristic prohibited by law. We are dedicated to providing a work environment free from discrimination and harassment and where employees are treated with respect and dignity."
Join Our Team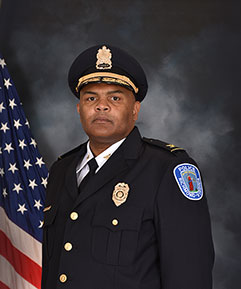 As Chief of Police, I welcome you to our website. I am extremely proud of the dedication, professionalism, and expertise our police officers bring to our organization on a daily basis. I am pleased you are taking the time to visit this site to learn more about us and our efforts in the communities we serve.
As Virginia's capital, Richmond is a progressive city offering beautiful neighborhoods characterized by striking architecture, a culturally diverse population and noted historic prestige. Our community policing strategies provide you with a wide range of skill development opportunities, from increasing your problem solving abilities to enhancing your interpersonal skills, the Richmond City Police Department is here to provide you with a tremendous opportunity for professional growth and advancement.
The Richmond City Police Department is accredited by the Commission on Accreditation of Law Enforcement Agencies (CALEA).
I encourage you to schedule a ride along to learn more about the Richmond City Police Department and the many opportunities available in our organization.
Chief of Police Gerald M. Smith

Minimum Requirements
Employment Requirements
Must be a U.S. Citizen
Must have a High School Diploma or GED
Must be 21 years prior to completing our training academy
No felony convictions or domestic assault convictions
Possess a valid driver's license
No D.U.I. convictions in the past 5 years
Must pass a written and physical agility test
Must pass an extensive background investigation including a polygraph, psychological, medical and drug screening
Benefits and Salary
Starting salary is $43,000.00
With over 4,000 employees, the City of Richmond is an "Employer of Choice" among cities throughout the nation. The City strives to hire and retain employees who bring dedication and talent to the workforce. The City offers a competitive, cost effective, and quality benefits package to include the following:
Competitive salary, starting at $43,000 for a Police Recruit. Salary increases to $44,000 after completion of the Police Academy with the opportunity to advance up to $82,106 as a police officer with career development and time in service
Health, Vision and Dental Insurance
Group Life Insurance
Promotional and educational opportunities
Retirement after 20 years of service-regardless of age
Deferred Compensation Plan
Vacation, Sick, Civil and Military Leave
Holidays (11)
Prepaid Legal Program (optional)
Aflac Plans (optional)
Credit Union Membership
Hiring Process
It is the policy of the Richmond Police Department to screen, hire and select the most qualified candidates for the position of Police Recruit. The Department utilizes a stringent process that is uncompromising on ethics, professionalism, and excellence.
Test Dates
Due to the current COVID-19 pandemic the Police Department will continue  to conduct recruit and lateral testing, however these will be in compliance with the Governors executive order.  We value every application and someone from our recruiting department will reach out to each applicant via email to schedule a testing date.
In order to test, you must have an active application with the Richmond Police Department and have been assigned a testing date through the Police Personnel Division.
Recruit Applicant Testing - Starts at 7 a.m.
No dates are currently scheduled
Questions?  Email Personnel at RPDRecruit@richmondgov.com
Physical Agility Test
The fitness test consists of the following:
The test begins from a seated position at which time a street address will be given. This address must be repeated correctly at the end of the test.
Run 200 yards (Up and back a 50 foot distance six times)
Step up on aerobic step bench 20 times.
Perform 15 push-ups
Perform 15 sit-ups
Step up on aerobic step bench 20 times.
Perform 15 push-ups
Perform 15 sit-ups
Run 200 yards (Up and back a 50 foot distance six times)
Address recall (If incorrect, penalty is to repeat 200 yard run)
The time limit for the fitness test is 6 minutes 18 seconds.
Sample Written Test
Application & Forms
Upon submission of an application, you will be required to complete a pre-screening form as well as a background questionnaire. The background packet can be notarized at the police department. Applicants with Spanish speaking skills are strongly encouraged to apply.
Upon determination that your application meets the minimum requirements for the Police Recruit position, you will be notified of the time, date, and location of the police entrance examination and fitness test. All notifications will be done electronically.
The police entrance examination is an entry-level law enforcement multiple-choice test. You will be tested on Basic Arithmetic, Reading Comprehension, Grammar Punctuation and Spelling, as well as Report Writing.
Forms and Information
Maps and Directions
Richmond Police Training Academy
1202 W. Graham Road
Richmond, VA 23220
(804) 646-6117
Police Recruit FAQs
I have submitted an application online. When will I be contacted?
This may vary depending on the number of current vacancies and the date of the next scheduled police academy. Applicants are kept abreast of their hiring status through regular updates to their online application account. Please check your email regularly to check your status. Also be sure to check your spam folder as well.
I have scheduled a date for testing, but I can no longer attend on that date. Do I have options?
Yes, you may reschedule for the next available testing date. Please contact Police Personnel at 804-646-6733 to reschedule. If you fail to attend a scheduled testing without notification to Police Personnel, your application will no longer be considered active.
How long does testing take?
This will vary depending on the number of applicants who are testing on that particular date. However, expect to be at the testing facility for approximately 4-6 hours.
I have completed testing. What happens next?
If you passed all phases of testing, your application will be assigned to a Background Investigator. This is a sworn Detective within the Police Personnel Division. You will be contacted to schedule a background interview within two weeks of your testing date.
How long does the background investigation take?
The background investigation process is very extensive. Information is obtained from multiple sources; including all former/current employers, personal references, credit reporting bureaus, civil / criminal court systems, military agencies and other sources in an effort to determine a candidate's suitability for the position. The average background will take approximately 3 months dependent upon the timeliness of the information being submitted.
I passed the background investigation and was not hired for the next Academy Class. What is the status of my application?
Your application will remain active, and you will be considered for the next Academy class. However, once a year lapses we require you pass another fitness test and polygraph examination to be eligible for hire.
If I am not hired and am no longer under consideration, does the Richmond Police Department notify me?
Yes. You will receive a written correspondence through the mail informing you of our decision.
If I have any questions during the process, who do I contact?
Please check your application account status online first. Once your application has been assigned to a Background Investigator, that Detective will remain your point of contact. For all other inquiries, please contact the Police Personnel Division at: 804-646-6733.
EEO Policy: "The Richmond City Police Department is fully committed to attracting, retaining, developing and promoting the most qualified employees, without regard to race, gender, color, religion, sexual orientation, national origin, age, physical or mental disability, veteran status or other characteristic prohibited by law. We are dedicated to providing a work environment free from discrimination and harassment and where employees are treated with respect and dignity."
Contact Us
Mailing & Business Address
Richmond Police Department
Personnel and Recruitment Unit
200 W. Grace Street
Richmond, VA 23220
Police Personnel (804)646-6733
For more information email Personnel at RPDRecruit@richmondgov.com
or
Call 1-877-RPD-JOB1 (1-877-773-5621)
Fax number (804)646-0405
For TTP assistance call (800)828-1120
EOE/AA/ADA