Fire & Emergency Services - FaceBook
Fire & Emergency Services - Twitter
Community Programs
Community programs are designed to provide educational opportunities for the public. Through various means of communication, information and demonstrations are available to children, teens, adults and our senior citizens. These efforts are targeted at not only preventing injuries and deaths but preventing hazardous conditions and fires from ever starting. Education is the key to a safe community.
The Richmond Fire Department will tailor the topic for a safety program to your needs. Some of our more popular activities are listed below.
For further information, please call (804)646-1526 or e-mail us.
For the latest Richmond COVID19 Updates, go to City of Richmond Official COVID-19 Updates
The Richmond Fire Department, in a collaborative effort with the City of Richmond Dept. of Public Health provides free blood pressure screenings.
Each fire station provides free blood pressure screenings between the hours of 8 a.m. - 8 p.m.
For additional information pertaining to Richmond Fire Department Blood Pressure Screenings, please call (804)646-2500.
If you need assistance installing your child's safety seat, the Richmond Fire Department wants to help. Personnel at three of our fire stations are specially trained and will be glad to see that your seat is properly installed.
The following three fire stations will check and inspect child safety seats between the hours of 8 a.m. - 8 p.m.
Station 17 - 2211 Semmes Ave.
Station 19 - 311 Maple Ave.
Station 14 - 2932 Hawthorne Ave.
The following are safety tips you should consider:
There must be one safety belt for each person. Buckling two people, even children, into one belt could injure both.
People who are not buckled up can be thrown from the car or around inside the car and seriously hurt themselves or others.
Never hold a child on your lap! You could crush him/her in a crash, or the child may be torn from your arms and incur severe injuries.
Never ride in the cargo area of a station wagon, van or pickup.
Child safety seats must be selected based on the size of the child and must be installed correctly.
Children aged 12 and under should ride properly restrained in the back seat.
The Richmond Fire Department, in a collaborative effort with local community and neighborhood groups, provides firefighters and fire equipment at community and neighborhood events.
Upon request the Richmond Fire Department will participate by showcasing fire equipment and/or providing fire fighters to assist with community events or celebrations. Groups requesting fire department participation must first submit a request in writing at least 72 hours in advance of their event. Fire fighters and equipment will remain in service while participating in the event or celebration. Visits to community or neighborhood events will be scheduled for a period of two hours between the hours of 8 a.m. - 8 p.m.
For additional information pertaining to the Richmond Fire Department participation in Community/Neighborhood Events, please call (804)646-2500.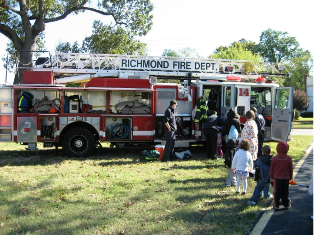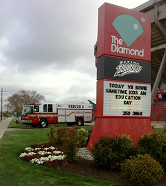 A portable fire extinguisher by definition is an item of equipment for the purpose of extinguishing a fire. Portable fire extinguishers are generally provided for use on the early or incipient stage of a fire. There is danger the fire could very quickly grow well beyond the capabilities of the fire extinguisher putting the individual at risk. Reality is that a portable fire extinguisher is effective only for the type and size of fire that the extinguisher is rated for. This information is only learned through reading the literature that comes with a new fire extinguisher or more importantly attending training conducted by the Richmond Fire Department.
Utilizing lecture and practical exercises using a fire extinguisher simulator, citizens who attend a training program are much better prepared to safely operate a fire extinguisher. We will come to your civic or business group providing brochures, a short lecture and practical simulation training. For further information, please call (804) 646-6640.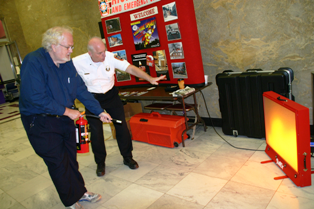 In 2014, there were an estimated 367,500 reported home structure fires and 2,745 associated civilian deaths in the United States.
Fire can spread rapidly through your home, leaving you as little as one or two minutes to escape safely once the alarm sounds. A closed door may slow the spread of smoke, heat and fire. Install smoke alarms in every sleeping room and outside each separate sleeping area.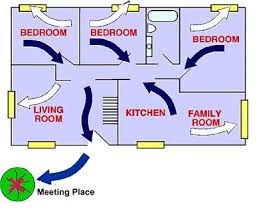 Install alarms on every level of the home. Smoke alarms should be interconnected. When one sounds, they all sound. Pull together everyone in your household and make a plan. Walk through your home and inspect all possible exits and escape routes. Households with children should consider drawing a floor plan of your home, marking two ways out of each room, including windows and doors. Also, mark the location of each smoke alarm. For easy planning, download NFPA's escape planning grid (PDF, 1.1 MB). This is a great way to get children involved in fire safety in a non-threatening way.
The Richmond Fire Department provides, free of charge, the service of conducting home fire safety surveys for our residential citizens. Provided upon request, this program enables fire department personnel to walk through your home with you pointing out important fire safety tips. Informational brochures will be provided and all comments are purely suggestions toward improving safety in your home. You can request your home fire safety survey by calling (804)646-1526.
The Fire Safety House is a tool for teaching fire and life safety to the public. It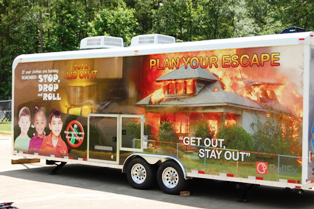 is taken to community events, schools and special activities on a regular basis. This unit is a 26' enclosed trailer that was purchased through a Federal grant. It features a full kitchen equipped with digital and laser props which allows visitors to use a fire extinguisher in a clean fire simulation atmosphere. Instructors guide visitors through a number of different types of fires common to a kitchen environment. The other end of the trailer is equipped as a bedroom. It enables the instructor to teach valuable skills relating to night time fires and appropriate response to a smoke alarm activation. It even is outfitted with a window whereby visitors can practice escaping if the bedroom door is too hot.
The trailer is also equipped with a weather package. This feature allows the instructor to simulate, through both audio and video, a hurricane, tornado and flooding conditions. The simulated conditions are very realistic and set the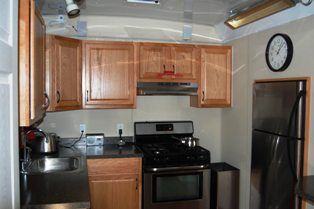 need for training. The instructor can deliver important safety tips on how to positively react to each of these events.
Because of the high demand for this program, requests for the Fire Safety House must be submitted in writing to the Fire Marshal at 201 East Franklin Street, Richmond, VA 23219. Requests should include the date, time, location, approximate number of participants, contact name and telephone number. Scheduling of the Fire Safety House is done on a "first come, first served" basis.
The Richmond Fire Department Mentorship Program was developed in September of 1998 to assist Richmond Public Schools with educating students in the City of Richmond.
Firefighters visit schools throughout the city to provide assistance to Richmond Public Schools principals, teachers and counselors. They provide assistance by spending anywhere from 1.5 - 2 hours a visit working one-on-one with young students. They visit local schools on the 1st and 3rd week of each month during the school term to work with school employees as they attempt to provide the best possible education to our young people.
For additional information pertaining to the Richmond Department of Fire and Emergency Services Mentorship Program, please call (804)646-2500.
A fire or life safety emergency is always unexpected however preparing for it should not be. A fire or medical emergency in a hotel or motel building often involves more than just one unit. Many occupants can be affected. Responding to an emergency requires quick decisions and fast actions in a setting that can be chaotic. Needless to say, lives and property can be saved by being prepared before fire strikes or an emergency happens.
The goal of Rest Safe in RVA is to ensure that lodging industry employees are knowledgeable in emergency response procedures and in fire prevention as well as having the facilities code compliant. The initiative includes the following:
Risk reduction training workshop
Emergency preparedness training and planning
Educational material for staff and guests
Fire drills for the employees
Fire department pre-fire planning
Advertising the program to the public
Refresher training
The Richmond Fire Department Ride - a - Long program was designed in 1996 to educate the fire department customers on what firefighters do and how they do it. In addition, the program was created to enhance the relationship between Richmond firefighters and our customers.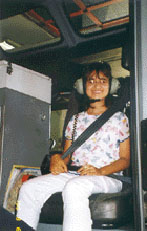 The Ride - a - Long program allows any customer to spend a day with any of the fire companies located throughout the City of Richmond. Citizens will be allowed to ride on fire department vehicles to emergency incidents to observe firefighters performing their duties. However, customers are not permitted to assist firefighters while they are performing those duties.
Customer visits are scheduled between the hours of 8 a.m. - 11 p.m., Sunday through Saturdays. Customers must submit a request in writing at least 72 hours in advance of their visit to ride.
Customers must submit a driver's license or proof of identification prior to riding on fire department vehicles. They must also sign a Waiver Release Form prior to riding on any fire department vehicles.
For additional information concerning the Richmond Fire Department Ride - a - Long program, please call (804)646-1833.
Help Richmond increase awareness in your community about the life saving benefits of smoke alarms.
Did you know that three (3) out five (5) home fire deaths result from fires in residential structures that are not equipped with working smoke alarms?
One-third or (38 percent) of home fire deaths result from fires that have no smoke alarms present at all.
Working smoke alarms can reduce the risk of dying in a home fire by (50 percent). 
In all 25 percent of smoke alarm failures are because of dead batteries.
Two Types of Smoke Alarms
Ionization Alarms

- may detect invisible fire particles (fast moving flames) sooner than photoelectric alarms.
Photoelectric Alarms

- may detect visible fire particles (slow smoldering fires) sooner than ionization alarms.
Studies show that both types will effectively detect either type of fire.  Dual-sensor models incorporate both of these technologies.  Hardwired detectors are normally equipped with a battery should there be a power failure.
Smoke alarms should be installed on every level of your home, including the basement and in or near every sleeping area.  On average, families have less than three minutes from the alarm activation to escape the fire.
Test your smoke alarms monthly and replace the battery as needed.
 Gently vacuum your smoke alarm monthly to prevent dust build up that could cause the sensor to be blocked.
Do not disable a smoke alarm due to nuisance alarms.  Instead check the batteries or the age as it may need to be replaced.  Do not use batteries from other devices (i.e. radio's; phones; etc).
 Position ceiling-mounted alarms at least 4 inches away from the nearest wall.
Follow the manufacturer's instructions or call the fire department for assistance.
Smoke alarms for the hearing impaired are also available.  They are normally equipped with a built in strobe light, an audible alarm or a vibrating piece that can be placed in a pocket or on the bed.  There are both hardwire and electrical plug models available. 
**Replace your smoke alarms every (10) years.  These alarms monitor the home every minute of every day but there lifespan is not indefinite.  If you are not sure how long you have had your smoke alarm you should replace it.
Your Richmond Fire Department is committed to ensuring that our community remains in a safe and healthy home.  If you are in need of a smoke alarm or just needs yours checked, please contact our office between the hours of 8am and 5pm daily at (804) 646 2500. On weekends and holidays you can call (804) 646 1526, leave your name, address and phone number where we can reach you during normal business hours to set up an appointment.

The Richmond Fire Department will be glad to participate in your community, civic or business event by setting up a static display. We can offer interior or exterior displays. We can arrange for a fire unit for display with firefighters that are more than willing to interact with your group. We have professional displays suitable for interior or exterior which will highlight our activities and safety messages. Brochures are also available for distribution on numerous fire and injury prevention topics. Call us at (804)646-2500 to discuss your needs or to schedule a display.