Contact Us
Shockoe Area Small Plan
900 E Broad Street
Richmond, VA 23219
Shockoe Small Area Plan
Final Plan
Following a meeting of the Shockoe Alliance on May 24th and a public comment period, a final version of the plan has been prepared.
Shockoe Small Area Plan - Final
Take a look at the Pre-Final Plan!
In 2018, the ULI-Rose Fellowship selected the City of Richmond as one of its project cities. The fellowship was a yearlong program of professional development, leadership training, and assistance with a local land use challenge. Richmond's challenge - How can Richmond leverage the assets and investment in Shockoe Bottom to a create a destination that protects its culture and historic heritage, encourages economic development and is sustainable? Among the Rose Fellowship's recommendations were the need for a unified vision to guide development and an infrastructure for community engagement.
In the fall of 2018, to address these recommendations, Mayor Stoney initiated the Small Area Plan process for Shockoe and created the Shockoe Alliance to guide the process and engage the community.
Engagement Opportunities
Shockoe Bottom, one of the city's oldest neighborhoods, was originally inhabited by Native Americans before being colonized by English settlers and later turned into the country's second largest center for the selling and buying of enslaved Africans. To ensure a collaborative approach to initiatives of cultural and historical significance in the Shockoe Bottom area, Mayor Levar M. Stoney announced the creation of the Shockoe Alliance, a group of city staff, preservation experts and community members. The Shockoe Alliance is charged with guiding the design and implementation of concepts and recommendations for the future of Shockoe with the goal of creating an innovative space of memorialization, learning and transformation – all while protecting the area's cultural and historic heritage.
The Department of Planning and Development Review is working with the Shockoe Alliance to create a Small Area Plan for the Shockoe Area. This plan will be the next-step in the implementation of the adopted Pulse Corridor Plan which focused on future development along the Pulse Corridor including surrounding Main Street Station. The intent is to knit together the policies and guidance embedded in the Pulse Plan, the ULI Rose Fellowship work, the Richmond 300 Master Plan, past studies and other work in progress to form a unified approach to revitalization and development.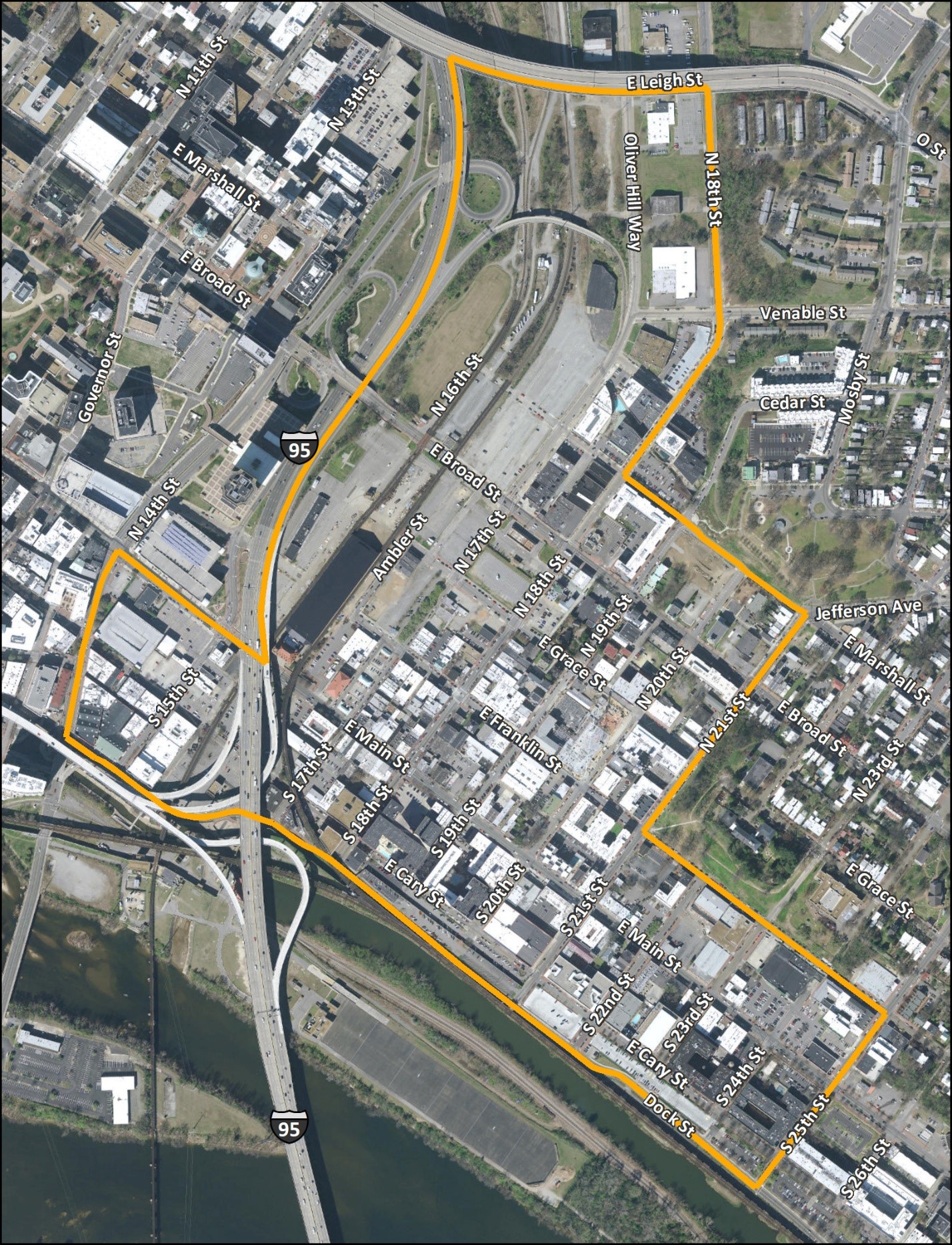 The development of the Shockoe Small Area Plan will involve multiple community events, site tours, online surveys, stakeholder meetings, and public hearings.

Community Event #1:   Introducing a Vision For Shockoe 

On April 15, 2019, PDR and the Shockoe Alliance hosted the first of four community meetings at Main Street Station.

Public Input Summary for April 15, 2019 Community Meeting #1

Community Event #2:   Community Ideas and Programming: On July 17, 2019, PDR and the Shockoe Alliance hosted the second community meeting at Martin Luther King Jr. Middle School. 
Community Event #3:   Small Area Plan Development Workshop
December 4, 2019 from 6-8 pm at Richmond Main Public Library Basement Auditorium, 101 East Franklin Street.
Community Event #4:   Preferred Plan Review and Next Steps 
Location and Date TBD
Past Engagement Opportunities (July 19 - August 27)
"Let's Talk Shockoe" - 90-minute events for community members to stop in and chat about Shockoe with staff and Shockoe Alliance members

Wednesday, July 28th, 5:30pm: Station 2 (2016 E. Main Street)
Saturday, July 31st, 10:00am: Ironclad Coffee (1805 E. Grace Street)

Public Meetings

Tuesday, August 3rd, 6:30pm-8:30pm: Main Street Station (1500 E. Main Street)
Wednesday, August 4th, 12:00pm-1:00pm: Microsoft Teams 

Saturday, August 14th, 5:00pm-9:00pm: Night Market @ 17th Street Marketplace
Our Mission
The City of Richmond's Shockoe Alliance is charged with guiding design and implementation of concepts and recommendations for the future of Shockoe as a holistic area rooted in history and informed by those with shared interests to advance these efforts in support of the mission.
The Shockoe Alliance aims to strike a balance between preservation, interpretation, restoration, and development, using Shockoe's wealth of cultural and historical memory to maximize its impact on the contemporary community in the form of economic development, recreation, and education.
Our Vision
Our vision is to promote awareness and understanding of the significant history of Shockoe through sensitive memorialization, interpretation, preservation, and education, with honesty and authenticity, while embracing the opportunity to define Shockoe as a vital asset of Richmond's cultural heritage, historic character, dynamic growth, and unique sense of place.
Shockoe Alliance Members
| | |
| --- | --- |
| Member | Organization |
| Delegate Delores McQuinn* | Virginia House of Delegates |
| Mayor Levar Stoney* | Rose Fellow |
| Council President Cynthia Newbille* | Rose Fellow |
| DCAO Robert Steidel | Rose Fellow |
| Elizabeth Kostelny* | Preservation Virginia |
| Ana Edwards* | Sacred Ground Historical Reclamation Project |
| Brian White* | Shockoe Partnership |
| David Napier* | Shockoe Neighborhood Association |
| Brian Jackson* | Shockoe Partnership |
| Louise Lockett-Gordon | Bike Walk RVA |
| Frazier Armstrong** | Capital Trees |
| Max Hepp-Buchanan | Capital Trees |
| Shelly Barrick Parsons | Capital Trees |
| Lisa Tripp | Capital Trees |
| Ben Campbell | Richmond Resident |
| Jeffery Burden | Church Hill Association |
| Lynetta Thompson | Community Unity in Action |
| Ellen Chapman | Cultural Heritage Partners |
| Trish Bernal | Friends of Taylor's Hill Park |
| Katherine O'Donnell** | Richmond Regional Tourism |
| Matt Robinette | Richmond Regional Tourism |
| Whit Richardson | Richmond Resident |
| Juan Braxton | Shockoe Property/Business Owner |
| Susan Gaible | Shockoe Property/Business Owner |
| Mark Chang | Shockoe Resident |
| Bill Martin | Valentine Museum |
| Lucy Meade | Venture Richmond |
* signifies an original member
** signifies a member who stepped down