Contact Us
Address:
900 E. Broad Street
Richmond, VA
23219 USA
 
Hours: Mon - Fri (8 a.m. - 5 p.m.)
Phone No. 804-646-6430
Email: Ask Public Works
Residential Street Sweeping Schedule
The Department of Public Works sweeps and flushes the city's streets.  We recognize the importance of this task, both to our customers and the environment.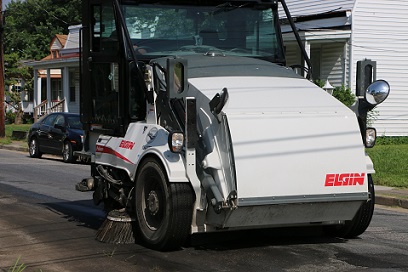 Each year, as approximately 22,000 lane-miles of streets are swept, tons of debris are kept from entering the stormwater system and, subsequently, our local waterways.  Due to the nature of our equipment, only streets with curbs and gutters are routinely swept.  Following are some additional points to keep in mind about street sweeping:
Obstacles in the sweeper's path hinder its operation. Items such as refuse containers, bikes, portable basketball goals, and piles of yard debris should be moved during sweeping periods. 
"No Parking" signs are posted at least 48 hours in advance of cleaning and they must be obeyed. Vehicles blocking the path of the sweepers will be towed. 
The sweeping schedule may be affected by adverse weather, equipment failure, or other unforeseen events
NOTE: Street Sweeping routes are cancelled during inclement weather (rain and snow)                                                        
Route
Map
Area
Dates
1
Map

Fulton/35th Street

 

 4/3/23 - 4/14/23

2
Map

Church Hill

   

3/20/23 - 3/31/23

3
Map
Highland Park

   4/17/23 - 4/23/23

4
Map
Northside/Ginter Park

  5/1/23 - 5/12/23

5
Map
Bellevue/Sherwood Park/Washington Park

 5/15/23 - 5/26/23

6
Map

Lower West End

 

 2/6/23 - 2/24/23

7
Map

Far West End

   

1/3/23 – 1/13/23

8
Map

Bainbridge/Bellemeade/Davee Gardens

  5/29/23 - 6/9/23
9
Map

Woodland Heights/Swansboro/Westover Hills

 

 6/12/23 - 6/23/23

10
Map

Downtown/Carver/Newtowne/Millie Jones

   

6/26/23 - 7/7/23

11
Map

The Fan

   

11/14/22 – 12/15/22

12
Map
Museum District

   10/31/22 – 11/04/22
Towing Information
Disabled Cars - Effective immediately, DPW Street Cleaning and Vacuum Leaf Program services do not accept requests to not tow disabled cars.
If your vehicle is disabled and parked on the street, you need to contact the Richmond Police Department at (804) 646-1343. 
Please keep in mind disabled vehicles should not be parked on City of Richmond streets during street cleaning or vacuum leaf collection. Once signage is posted, all vehicles, even those that are disabled, must be moved before street cleaning so as to not receive a parking ticket and towing fees.
To Retrieve Your Vehicle, contact:
Siebert's Towing
   642 W. Southside Plaza
   Richmond, VA 23224
   Phone: (804)233-5757
   Web: seibertcos.com
To find out if your vehicle is at Seibert's

Go to: intow.seibertcos.com
Enter your VIN or plate number to find out if your vehicle with Seibert's 
Note: there is a short lag time, but most vehicles should be in the system an hour or less from the time it was towed
Note: With the exception of the downtown Central Business District, the Richmond Police Department issues parking violations and tows cars. DPW Street Cleaning posts the no parking signs at least 48 hours in advance of the scheduled service. The Police will not tow if the signs are not in compliance.
The Department of Public Works Street Cleaning Division cannot authorize parking ticket refunds or towing fee refunds.