Richmond Resort Casino Development
In 2021, Richmond voters will have the opportunity to bring a resort casino to the city. 
Legislation adopted by the Virginia General Assembly and signed into law by Governor Northam earlier this year authorizes the city to host a casino gaming establishment, subject to the residents of Richmond approving a casino referendum. That referendum is anticipated to be on the ballot in November of 2021. The law requires that, prior to requesting the court to order a casino referendum, the city select a preferred resort casino operator and location.
All community meetings and recordings will be linked under the Virtual Meetings section of this page.
Para ver la página en español, haga clic aquí.
Learn about the proposed project, ONE Casino + Resort:
Richmond Host Community Agreement
Click here to view the Host Community Agreement.
Community Support Agreement
Click here to view the Community Support Agreement.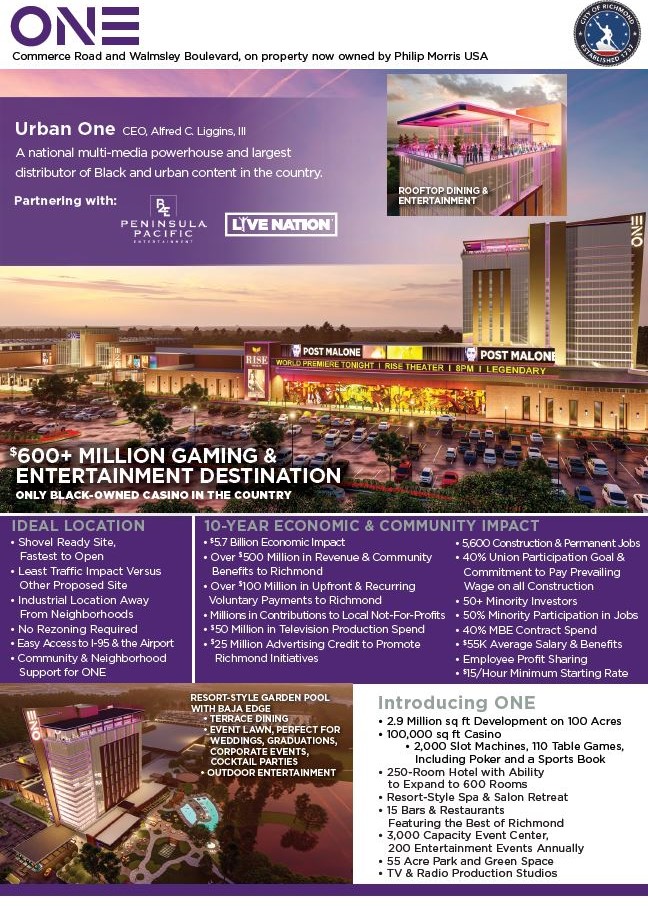 Frequently Asked Questions
Project Details
The proposed location is at Commerce Road and Walmsley Boulevard, on land currently owned by Phillip Morris, USA. The site is located in a primarily industrial area in proximity to the Richmond Marine Terminal. 
Urban One is the owner of ONE Casino + Resort and has partnered with Peninsula Pacific Entertainment to manage and operate ONE Casino + Resort. Learn more about the team and project at onecasinoresort.com. 
ONE Casino + Resort is committed to make responsible gaming an integral part of their daily operations. These responsibilities include the promotion of responsible gaming and the prevention of gaming by individuals that are underage, impaired, or on the exclusion or self-exclusion lists. Every team member across all departments will be trained on the regulations, policies, and procedures during company orientation and retrained annually. ONE Casino + Resort will educate all team members regarding the signs, symptoms, and procedures to be used to identify problem gambling behavior. Team members are trained to recognize the potential behavioral characteristics that indicate a guest may have a gambling problem and provide access to resources to support the prevention and treatment of problem gambling.
ONE Casino + Resort is required to provide funding to address problem gaming per the Virginia Casino Act. On top of that, ONE Casino + Resort is required to pay additional funding to address problem gaming per the Host Community Agreement. 
The project is estimated to generate over $500 Million in direct, indirect, and induced tax revenues and community benefits to Richmond over the first ten years of operation.
The city conservatively estimates that this project will generate $170M + of new General Fund revenue over the first five years, including the upfront cash payment of $26.5M to the city. 
250-Room Hotel with ability to expand to 600 Rooms
Resort-Style Spa & Salon Retreat
15 Bars & restaurants featuring the best of Richmond
Resort-style garden pool with baja edge
3,000 capacity event center
200 entertainment events annually
55-acre park and green space featuring 35 acres of preserved wetlands, community gardens, miles of bike trails, a one-acre festival lawn with a dedicated space for food trucks, a playground for all ages and abilities, large-breed and small-breed dog parks, fitness trails, and a walk-through arboretum featuring Richmond's native plant and tree species.
TV & Radio Production Studios
Rooftop restaurant and bar complete with late-night entertainment
Terrace dining
Event lawn
Outdoor entertainment
 
Slot machines offering the latest and most popular slot machines titles
Tables games
Poker room
High-tech sportsbook
Cutting-edge gaming technology 
 
Peninsula Pacific Entertainment currently owns Rosie's Gaming Emporium through its wholly-owned subsidiary, Colonial Downs Group, LLC, and will also be the Manager of ONE Casino + Resort. How will Peninsula Pacific Entertainment and Urban One ensure that the operations of ONE Casino + Resort and Colonial Downs Group do not conflict with each other? 
Urban One is the owner of ONE Casino + Resort and has partnered with Peninsula Pacific Entertainment to manage and operate ONE Casino + Resort.  They are contractually bound to prevent any such conflicts, and the management of ONE Casino + Resort shall be structured to prohibit cross-over responsibilities and conflicts.  Rosie's Gaming Emporium will continue to operate in the manner it currently operates.
If the referendum fails in November, the city doesn't have any financial obligations to the proposed owner and operator. No city funds are being used to incentivize the opportunity. In fact, state law prohibits localities from spending taxpayer dollars on casino gaming projects. 
To learn more, read sections 4.1 and and 5.2 of the Host Community Agreement. 
Potential Benefits & Costs
The casino operator will be solely responsible for all costs associated with designing, building, and opening the casino, included any needed public infrastructure work.




No taxpayer dollars will subsidize or incentivize this development.
No, in fact, the legislation passed by the Virginia General Assembly specifically states that localities are prohibited from spending taxpayer dollars on a resort casino project.
Thousands of jobs during construction with 40% union participation goal and commitment to pay prevailing wage on all construction
1,500 permanent jobs
$55K average annual salary and benefits
Employee profit sharing
$15/hour minimum starting rate
 
The resort casino will provide significant new annual revenues, add thousands of good-paying jobs, and boost the city's entertainment and tourism industry. For more specific insight on potential community benefits, read and respond to the survey, available through December 15.




A Joint Legislative Audit and Review Report (JLARC), Gaming in the Commonwealth, found that casinos authorized by the proposed state legislation are projected to generate about $260 million annually in state gaming taxes and have a positive but modest impact on local economies. Richmond's development was projected to contribute 31% of that total gaming revenue and gaming tax revenue. 

The same report noted that a casino development would offer thousands of jobs for Richmonders.
50+ Minority investors
50% Minority participation in jobs
60% Local hiring
40% MBE contract spend
 
Convergence Strategy Group estimates 2.6 million gaming visits annually to a South Richmond casino.  Chmura Economics & Analytics estimates the project will generate nearly $48 million of incremental tourism-related spending outside of the resort and within Richmond annually. View Convergence Strategy Group's Market Study here. 
ONE Casino + Resort is a project for Richmond by Richmond and will feature:
Local restauranteurs including Mama J's, Perch, Eat Restaurant Partners, Southern Kitchen, Stella's, and Richmond Restaurant Groups
Local wineries, craft breweries, and distilleries
Local Construction team including Hourigan and Team Henry (General Contractors)
Local Vendors will have access to ONE Casino + Resort's Festival Lawn 
Works of local artists will be commissioned and included in the decor
Local businesses will have the opportunity to participate in the ONE Card rewards program.  The ONE Card allows casino patrons to earn and accumulate points at the property that can be redeemed at local restaurants, local retail outlets, for stays at Richmond hotels, and to go to concerts in the Richmond neighborhoods and communities.
 
Nature of the Development
A resort casino is an establishment consisting of a casino with temporary lodging provided in an on-premises hotel. Customers receive the benefits of both gambling facilities and lodging.
Primarily, a resort casino provides a wrap-around hospitality experience for tourists rather than a source of short-term entertainment. A casino resort is just that – a resort that has the added benefit of a casino for those who wish to participate in that form of entertainment.




On a technical level, a casino offers more by way of entertainment. In comparison to a gaming emporium, this type of resort casino offers table games, slot machines, and lodging. Gaming emporiums focus on bets-based games, jackpots, and other electronic gaming devices.
No, the state legislation clarifies that casino operators answer to the Virginia Lottery Board, the state body that will be ensuring fair practices and protocols for all five potential casinos across the Commonwealth. 

However, the city can utilize contractual commitments to ensure the operator delivers on the project it promised. The city anticipates it will only move forward with selecting a preferred casino operator that agrees to enter into a development agreement with terms and conditions deemed acceptable to the city and which may be enforced by the city. 
The state legislation authorizes casino gaming in the Commonwealth to be regulated by the Virginia Lottery Board. It allows for the construction of five casinos in the Commonwealth of Virginia in five cities and requires that each locality interested in hosting a casino hold a voter referendum.




Further, the bill specifies the requirements for licensure of casino gaming operators and the conduct of casino gaming and imposes criminal and civil penalties for violations of the casino gaming law.
The state legislation went into effect July 2020, meaning that as soon as November 2020 localities could begin holding voter referenda on the topic. 
The law is clear: before voters decide whether they want a casino in their city, the interested locality must bring an operator to the table. The City of Richmond has chosen to do this through a competitive request for qualifications/proposals because our city deserves the best deal. 
 
The legislation reads that the location of casino gaming establishments shall be limited to eligible host cities that meet specified criteria: the cities of Portsmouth, Richmond, Norfolk, Danville, and Bristol. The bill requires each eligible host city to hold a referendum on the question of whether to allow casino gaming in the city. All localities, with the exception of Richmond, chose a casino operator and held a referendum in 2020.

On November 3, 2020, voters in Bristol, Danville, Norfolk and Portsmouth all approved the development of a casino in their respective cities in landslide referenda. Read more here.

The development is entirely subject to voters passing the casino referendum. If Richmond voters go to the polls and decide not to approve of the development of a casino, there will be no casino.
If City Council selects the ONE Casino + Resort operator and location as the preferred gaming operator and location to include in a referendum, then the voting citizens of Richmond will have the opportunity to vote during the referendum on November 2nd. 
Document Archive
This archive houses all relevant documents and materials related to the Virginia Casino Act and the competitive process taking place in the City of Richmond. The archive will be updated as the process unfolds.